Explore the Mass Humanities funded projects awarded from 2000 to the present.  Browse by grant type, city, region or keyword.  Subscribe and receive news when grants are awarded.  Interact with a state map of grants awarded!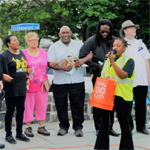 Discussion: Civil Rights Grant
The 7th annual communal reading of "What is the Fourth of July to the Slave?" on July 4th. Evening entertainment will include musical and dance performances, spoken word, and fireworks.
New Lynn Coalition
Lynn, MA, Essex County (Northeast)
project director: Wendy Joseph
awarded on:
2017-05-08
amount:
$500