Explore the Mass Humanities funded projects awarded from 2000 to the present.  Browse by grant type, city, region or keyword.  Subscribe and receive news when grants are awarded.  Interact with a state map of grants awarded!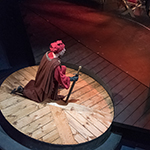 Project: Engaging New Audiences Grant
A series of public programs to complement the fall production of Macbeth that will engage audiences-including Boston Public School students and young people recommended to the program by the Department of Youth Services and the Department of Child and Family Services-in debates about language in productions of Shakespeare's plays.
Actors' Shakespeare Project
Somerville, MA, Middlesex County (Greater Boston)
project director: Mara Sidmore
awarded on:
2018-06-15
amount:
$15,000