Explore the Mass Humanities funded projects awarded from 2000 to the present.  Browse by grant type, city, region or keyword.  Subscribe and receive news when grants are awarded.  Interact with a state map of grants awarded!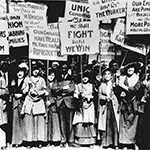 Project: Negotiating Social Contract Grant
Production of a 20-minute program on the suffrage movement in the U.S., with a focus on 1910-20, that will become part of EMK's rotating repertoire of daily programs.
Edward M. Kennedy Institute for the United States Senate
Boston, MA, Suffolk County (Greater Boston)
project director: Caroline Burke
awarded on:
2019-06-14
amount:
$15,000