Explore the Mass Humanities funded projects awarded from 2000 to the present.  Browse by grant type, city, region or keyword.  Subscribe and receive news when grants are awarded.  Interact with a state map of grants awarded!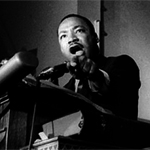 Discussion: Open Grant
One a communal reading of Rev. Martin Luther King's Riverside Church speech, Beyond Vietnam: A Time to Break Silence, and the other a screening of the documentary Passage at St. Augustine: The 1964 Black Lives Matter Movement That Transformed America to be followed by a discussion between filmmaker Clennon King and long-time civil rights leader Mimi Jones.
Unitarian Universalist Urban Ministry
Roxbury, MA, Suffolk County (Greater Boston)
project director: Mary M. Earl
awarded on:
2017-05-08
amount:
$3,500