Explore the Mass Humanities funded projects awarded from 2000 to the present.  Browse by grant type, city, region or keyword.  Subscribe and receive news when grants are awarded.  Interact with a state map of grants awarded!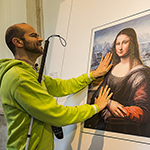 Project: Engaging New Audiences Grant
A disability-studies exhibit-to accompany a tactile art exhibit- on the history of accessibility in arts programming and on how both blind and sighted artists and audiences influence and affect the fine arts.
Mosesian Center for the Arts
Watertown, MA, Middlesex County (Greater Boston)
project director: Kimberly Thompson
awarded on:
2018-06-15
amount:
$10,000