You are here:
Home
>
Public Humanist Contributor Page
The Public Humanist contributor: Kristina Reardon
Kristina Reardon, of Uxbridge, is doctoral candidate in comparative literature at the University of Connecticut. She was awarded a grant to a National Endowment for the Humanities summer institute on World War I in 2014 and a Fulbright grant to Slovenia in 2010.
published on November 11, 2015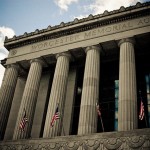 Historian Kristina Reardon weighs in on remembrance and public support for American war memorials.
Read More...
published on December 22, 2014
On Christmas Eve of 1914, German, French and British soldiers in Belgium waited in the trenches, now sure the war would not be over by Christmas. Yet optimism that the war might soon end had not died, and, according to war lore, neither had the spirit of the season.
Read More...