You are here:
Home
>
Public Humanist Contributor Page
The Public Humanist contributor: Mari Castañeda, Ph.D.
Mari Castañeda, Ph.D. is a professor in the Department of Communication and Center for Latin American, Caribbean and Latino Studies, University of Massachusetts Amherst.
published on September 25, 2015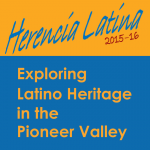 On Thursday September 17th, around twenty-five people gathered at the Shea Theater in Turners Fall to watch episode six of Latino Americans, the six-hour, 3-part documentary that aired on PBS in spring 2013. Facilitator Mari Castañeda, Ph.D., reflects on the gathering.
Read More...