You are here:
Home
>
Public Humanist Contributor Page
The Public Humanist contributor: Jossie Valentin
City of Holyoke Councilor Valentin has lived in Massachusetts since 1998. She has worked at Holyoke Community College since 2006 as a bilingual Senior Academic Counselor. Originally from Puerto Rico, she received her Bachelor's degree in Psychology from the University of Puerto Rico and her Master's degree in Forensic Psychology from American International College in Springfield, MA. She is also a Licensed Alcohol and Drug Counselor (LADC). Before her work at Holyoke Community College, she was the Program Director for Arbor House, a substance abuse residential treatment program on Pine Street in Holyoke. She was also the Program Director for the Psychiatric Evaluation and Stabilization Unit at the Hampden County Correctional Center in Ludlow, MA. Councilor Valentin was elected to her first term as Ward 4 City Councilor in November 2013. She lives on Linden Street with her wife and their 14-year-old daughter.
published on November 5, 2015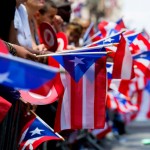 As a contributor to the Herencia Latina series programming, City of Holyoke Councilor Jossie Valentin explores the significance of Puerto Rican migration through the story of her own arrival in western Massachusetts.
Read More...