You are here:
Home
>
Public Humanist Contributor Page
The Public Humanist contributor: Augusta Rohrbach
Augusta Rohrbach left a tenured position at Washington State University to return to Cambridge, MA. She now works at Tufts University with the Vice Provost for Research to promote high impact research, identify and cultivate programs for innovation and collaboration, and support schools in their research development initiatives. She has published two books—Truth Stranger than Fiction (Palgrave 2002) and Thinking Outside the Book (2014, UMass) and numerous articles on a range of topics from the phenomenology of racial stereotypes to digital pedagogy. Augusta received her PhD in English and Comparative Literature from Columbia University. As an undergraduate, she majored in Philosophy at the New School for Social Research. NB: The views she expresses in Public Humanist posts in no way represent those of Tufts University.
published on March 9, 2016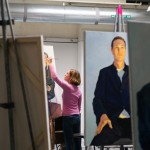 Recent mergers in Boston's higher education community shed light on a new way of conceiving the humanities that bodes well for the increased wealth of cultural resources in our state
Read More...