You are here:
Home
>
Public Humanist Contributor Page
The Public Humanist contributor: Linda Morse
Linda Morse has been a history teacher at Foxborough Regional Charter School since 2006.  She is also the editor of the New England Journal of History published by the New England History Teachers Association. Linda and her husband Doug recently celebrated 40 years of marriage and they have two independent daughters of whom they are very proud. She lives in Millis, Massachusetts.
published on June 20, 2016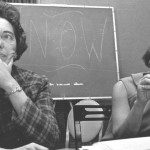 Massachusetts history contains many feminists who espoused full-humanity for men and women as well as equal political, educational, and occupational opportunities, including some early feminists who challenged traditional definitions of gender.
Read More...