You are here:
Home
>
Public Humanist Contributor Page
The Public Humanist contributor: David Levering Lewis

David Levering Lewis is the Julius Silver University Professor and Professor of History at New York University. He is twice the winner of the Pulitzer Prize for his biography of W. E. B. Du Bois, the first author to win the coveted prize for biography for two successive volumes on the same subject.
published on March 27, 2018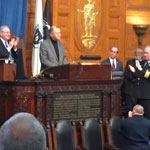 Pulitzer Prize-winning author David Levering Lewis's speech at the State House commemorating the 150th birthday of sociologist, philosopher, and civil rights activist W.E.B. Du Bois.
Read More...