You are here:
Home
>
Public Humanist Contributor Page
The Public Humanist contributor: Charles Okwandu
Charles Okwandu played basketball at the University of Connecticut from 2008 to 2011, when he graduated with a degree in political science. He is currently head basketball coach at Two Rivers High School. He, his wife, and young daughter live in the Hartford area.
published on May 22, 2018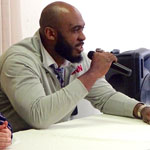 Nigerian basketball star Charles Okwandu on how the public humanities can help immigrants feel at home while honoring their nations' histories and cultures.
Read More...