You are here:
Home
>
Public Humanist Contributor Page
The Public Humanist contributor: Ashlynn Rickord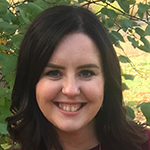 Ashlynn Rickord is an archivist at the Archdiocese of Boston Archives and a disability and mental health historian. Ms. Rickord received her Master of Theological Studies degree from Harvard Divinity School where she researched the religious life at mental hospitals and state schools for the disabled throughout the Commonwealth. Beyond historical research, Ms. Rickord has over ten years of experience in the field of public history, having worked in various archives, museums, and historical commissions. She is also on the Board of Trustees for the Association for Gravestone Studies and chairs the Emerging Professionals Group for AGS. She resides in Melrose where she is an active member of the city's Historical Commission.
published on October 18, 2018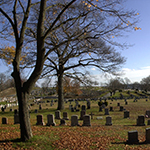 Cemeteries are more than final resting places: they can serve as opportunities for students, historians, and community members to learn about history in new and interesting ways—especially in Massachusetts.
Read More...