You are here:
Home
>
Public Humanist Contributor Page
The Public Humanist contributor: Rosario M. de Swanson
Rosario M. de Swanson is Professor of Spanish Language and Latin American Literature & Gender Studies at Marlboro College. Her work has appeared in Hispanic Journal, Hispania, Alba de America, Revista Iberoamericana, Grafemas, and MARGES. In 2011 she received the prestigious Victoria Urbano Award in drama, presented by the Asociación Internacional de Literatura y Cultura Femenina Hispánica (AILCFH) for her play Metamorfosis ante el espejo de obsidiana (Metamorphosis before the Obsidian Mirror). Her latest book, "¿Y cuál es mi lugar señor entre tus actos?": El drama de Rosario Castellanos (Peter Lang, 2018) studies the dramaturgy of Rosario Castellanos.
published on January 24, 2019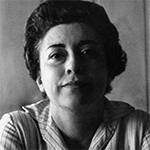 Underrated and underread: the work of Mexican feminist writer Rosario Castellanos can be considered a literary act of resistance, a way of carving out a female space in public intellectual life.
Read More...