You are here:
Home
>
Public Humanist Contributor Page
The Public Humanist contributor: Martin Blatt
Martin Blatt is Director of the Public History program at Northeastern University. He has worked for the National Park Service in Boston and Lowell for twenty-four years as a historian and cultural resources manager. In 2013, he conceived and coordinated the historical pageant in Boston, "Roots of Liberty: The Haitian Revolution and the American Civil War." He has served as President of the National Council on Public History and on the Executive Board of the Organization of American Historians. Blatt's museum credits include exhibits on Old South Meeting House, the Battle of Bunker of Hill, and the Gulag. Blatt served as Board President of Central Square Theater in Cambridge for ten years.
published on September 20, 2018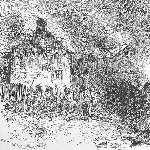 King Philip's War was a bloody conflict that involved every New England colony and all the peoples of the Algonquian nation, yet this history remains almost invisible in Boston. It may be time to recognize it.
Read More...
published on September 30, 2008
Molasses, sugar, palm leaves, and cotton. Tea, coffee,rum. All of these were staples of eighteenth and nineteenth-century New Englandlife. None of them were produced in New England, and obtaining them involvedsome practices we would now find morally objectionable, to say the least.Plantation slavery, for instance, and opium trading.Do we condemn this? It was, after all, done at a time whensuch practice was generally acceptable.
Read More...