You are here:
Home
>
Public Humanist Contributor Page
The Public Humanist contributor: Kathryn Ruth Bloom
After a long career in corporate public relations in the biopharmaceutical industry, Kathryn Ruth Bloom returned to the academy and completed a PhD in American literature at Northeastern University in May 2018. She is a former board member of Mass Humanities.
published on November 21, 2018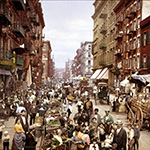 The work of 20th century middlebrow writers like Booth Tarkington is in danger of being forgotten. But it shouldn't be.
Read More...
published on December 4, 2008
Your parents may have told you to avoid talking about religion and politics in public, but almost 300 people did just that on November 22, 2008, when they participated in the fifth annual Mass Humanities symposium, "One Nation under God? The Role of Religion in American Public Life," hosted by Boston College. The program brought a stellar group of academics, journalists, theologians and other thought leaders together with students and members of the general public for an intensive discussion of religion in the contemporary public square.
Read More...