You are here:
Home
>
Public Humanist Contributor Page
The Public Humanist contributor: Nancy Eng
Nancy Eng is the Executive Director of the Chinese Historical Society of New England (CHSNE). She received her bachelor's degree in Sociology from Harvard College and her master's degree in Administration, Planning, and Social Policy from the Harvard Graduate School of Education. She serves on the Chinese American Women Oral History Project Advisory Committee co-sponsored by CHSNE and the Schlesinger Library at the Radcliffe Institute for Advanced Study.
published on April 30, 2012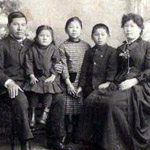 In the middle of Lunar New Year's celebrations, the Chinese Historical Society of New England (CHSNE) held its second in a series of 20th anniversary lectures in late January. We invited Columbia University Lung Family Professor of Asian American Studies and Professor of History, Mae Ngai, to lecture about her research in connection with the Tape Family, a three-generation Chinese American family chronicled in her book, The Lucky Ones: One Family and the Extraordinary Invention of Chinese America.
Read More...
published on December 8, 2011
In June 2011, Mass Humanities awarded a grant to the Chinese Historical Society of New England, located in Boston's Chinatown, for public history events connected to the Society's 20th anniversary. Project organizers Nancy Eng and Laura Ng touch upon some of the history of the Chinese Educational Mission, which is chronicled in a new book by Edward Rhoads.
Read More...