You are here:
Home
>
Public Humanist Contributor Page
The Public Humanist contributor: Robert Forrant
Robert Forrant, Professor of History at UMass Lowell, is chair of the Bread & Roses Centennial Committee, an organization dedicated to commemorating the 100th anniversary of the Great Lawrence Textile Strike. He received his PhD in history from UMass Amherst in 1994. Before receiving his PhD, Forrant worked as a machinist at the now-closed American Bosch plant in Springfield, MA and was Business Agent for International Union of Electrical Workers Local 206 at Bosch for several years. In 2009 he published Metal Fatigue: American Bosch and the Demise of Metalworking in the Connecticut River Valley.
published on April 4, 2017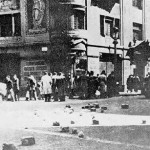 Suggesting that the 1912 strike started in a flash over a wage cut diminishes the contributions of the laborers—mostly women and immigrants—who built unity out of diversity.
Read More...
published on February 17, 2012
Dear Matt Damon and Ben Affleck, You both have an affinity for Howard Zinn's A People's History of the United States, and the more involved I am in commemorating the 1912 Great Lawrence, MA, Textile Strike—aka the Bread & Roses Strike—the more I think you two should make a movie about the strike. With me, of course, as head writer!In 1912, Lawrence, Massachusetts, a leading industrial center, erupted into a long, sometimes violent struggle between mill owners and workers.
Read More...