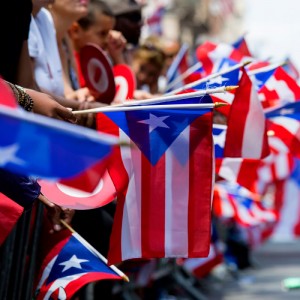 Editor's Note: City of Holyoke Councilor Jossie Valentin hosted a screening of Latino Americans Episode II: Empire of Dreams at Holyoke Public Library as part of the Herencia Latina series. The episode focuses on the deportation of Puerto Rican, Cuban, and Mexican migrants during the Great Depression. Here, she shares her story of coming to the United States and raises the questions she feels make Herencia Latina relevant and necessary.
"What is your story? Where are you from? What brought you here?" I have been asked these questions time and time again since I moved from Puerto Rico to Massachusetts 17 years ago. Once I begin to share my responses, these questions usually follow: "You are Puerto Rican? Really? But you don't look Puerto Rican and you don't have an accent. Why don't you have an accent?" I guess some believe that these types of comments are compliments— as if the ultimate test of assimilation includes lack of an accent and loss of our own culture, among other requirements.
I attended private schools in PR, which meant that my learning environment was in both English and Spanish. The expectation was that I would leave Puerto Rico once I graduated from high school to attend college in the US—we call that irse para allá fuera, which literally translates to "go out there." But my plans would be different. Although I attended private schools my family did not have the financial resources to pay for me to attend a college in the US. I was accepted to eight colleges, but there were no "good" financial aid packages for me, so I was on to plan B. I attended the University of Puerto Rico and paid $35 a credit to obtain my B.A. in Psychology. I received a great education for a great price. It was a win-win situation. In my junior year, I came to UMass Amherst as an exchange student and fell in love with the Pioneer Valley. As soon as I could, I packed up 3 suitcases and came to Massachusetts on a one-way plane ticket.
When I arrived here in 1998 I quickly met other Puerto Ricans and gravitated towards them, attempting to build a community away from home. I lived in Northampton but would come to Holyoke for Puerto Rican food. Coming to Holyoke always felt like being home: the language, the food, the people. I moved to Holyoke years later. I thought of all the Puerto Ricans who came to the US many decades before—always looking for better opportunities, jobs, and ways to improve their financial situations. Many came to New York City, Massachusetts, and Connecticut for these opportunities. The plan was always to make money and go back "home" to the island. But for many, that never happened. They established their roots here, and built communities to remind them of their patria.
It wasn't until I came to Massachusetts at the age of 21, that I started to realize and really understand my history. Growing up in Puerto Rico, I knew we had been US citizens since 1917, but that we could not (and still cannot) vote for the President of the United States. We use the US dollar as our currency (to this day, I still get asked this question), and travel freely to the United States—among many other "benefits" that we were told to appreciate. I was taught that Puerto Rico is a commonwealth—an Estado Libre Asociado—which translates to "Associated Free State". Think about that concept for a minute and try to grasp it. Puerto Ricans have been in a state of uncertainty and limbo for decades. Let's be clear: Puerto Rico is a US colony. We can try to beautify that statement and say "Puerto Rico is a US territory," but that would not do justice to the real history of these two countries. Lesson here: Know your history and keep learning. Always.
The migration of Puerto Ricans is as relevant today as it was 100 years ago. The search for employment and educational opportunities are some of the many reasons why Puerto Ricans continue to leave the island and venture into the states, leaving behind family members, memories, and their patria. The number of Latinos leaving Puerto Rico to come to the US continues to increase, particularly members of the young professional community, who are coming here in search of more opportunities to grow. The question becomes: What will the population of Puerto Rico look like in 10 years? What are the short and long term effects of these changes? How does this all impact the financial picture of the island? It is time for some real answers for Puerto Rico.