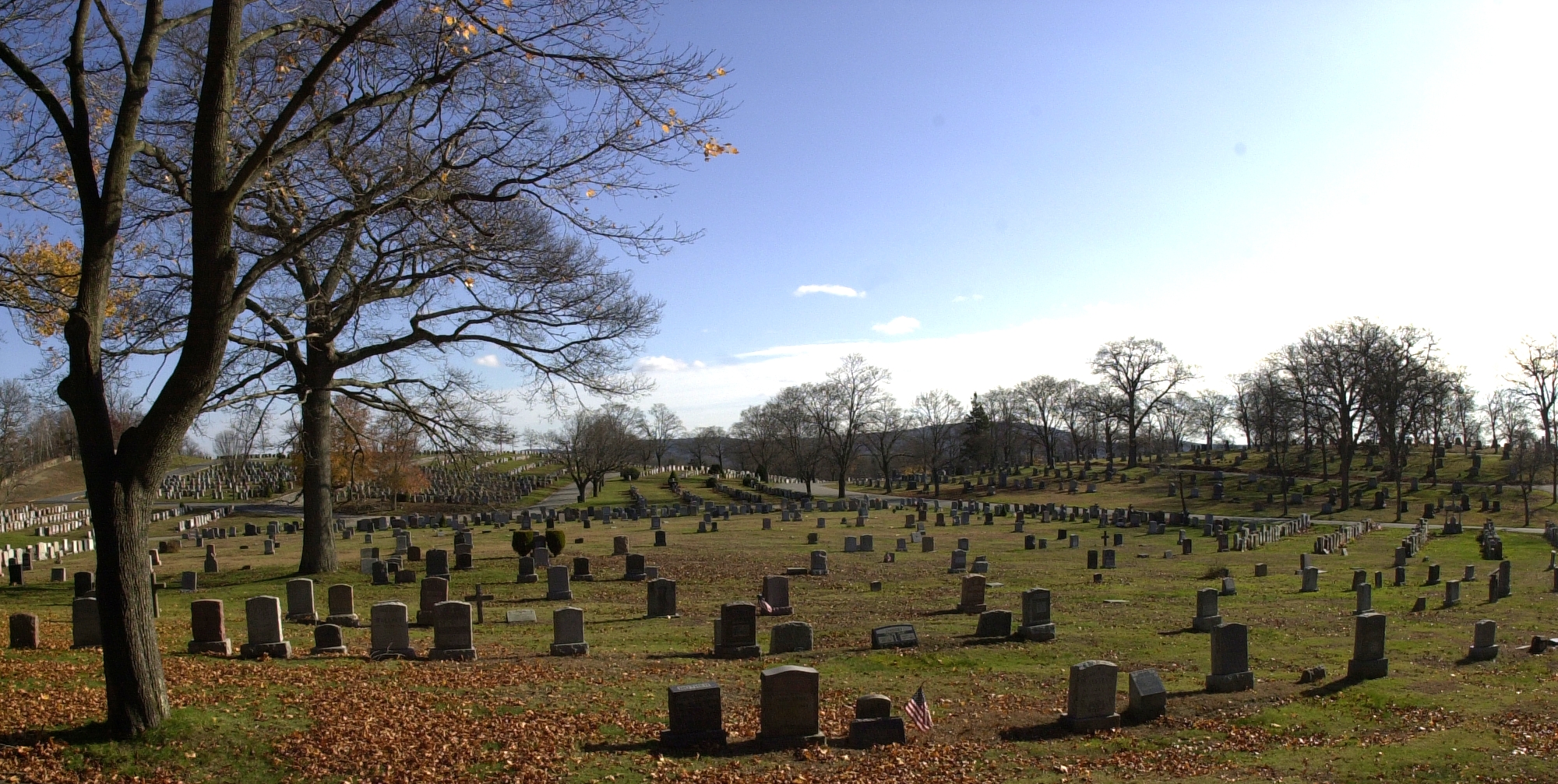 Cemeteries are more than final resting places: they can serve as opportunities for students, historians, and community members to learn about history in new and interesting ways—especially in Massachusetts. There is a trove of interesting and historically relevant cemeteries here, from those dating back to the 1620s when passengers of the Mayflower landed near Plymouth to the graves of Founding Fathers like John Adams to artists like Julia Ward Howe (writer of "The Battle Hymn of the Republic") and Jack Kerouac.
Certainly do visit the famous ones. But if you're a teacher, there are many lesser-known gravestones that can be used to illuminate our state and our nation's history just as well. Here are few.
Charles Bulfinch, Mount Auburn Cemetery (Cambridge)
Bulfinch is one of the most famous early American architects and is most notable for his design of the US Capitol building. He was also responsible for many buildings in and around Boston, which could lend itself to a school project on architectural identification and examining local history.
Daniel Malcom, Copp's Hill Burying Ground (Boston)
At Copp's Hill lies the body of Captain Daniel Malcom, "buried 10 feet deep" to ensure that his remains wouldn't be disturbed by the British troops who disliked him so much.
Captain Malcom was a known smuggler and dissenter to the British, which is why British troops used his gravestone as target practice. When visiting his grave today, one can still see the indentations of musket balls. This stone could be used to talk about the start of the American Revolution and why early colonists wanted to secede from Britain.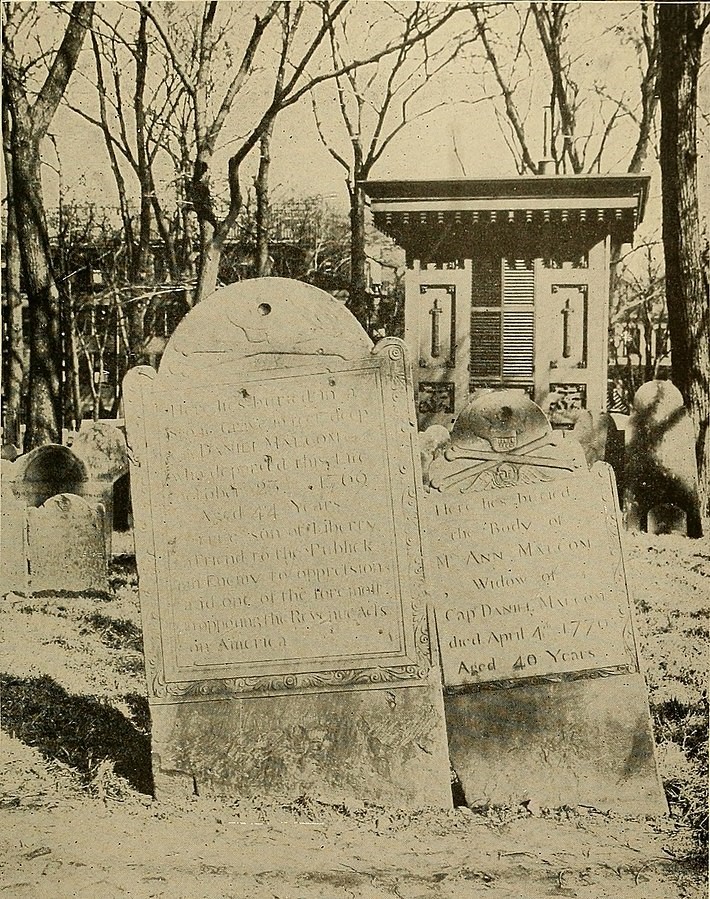 Peter Byus and Rev. Charles T. Torrey, Mount Auburn Cemetery (Cambridge)
Peter Byus and Rev. Charles T. Torrey are both buried at Mount Auburn Cemetery and share slavery motifs on their gravestones. Peter Byus was a slave who escaped to Boston; his gravestone is marked with a bas-relief of a black man reaching his hands up to the heavens.
Rev. Charles Torrey was an ordained minister and an abolitionist, having moved to Baltimore to assist slaves in their escape north via the Underground Railroad. He was later arrested, sentenced to a state penitentiary, and died of tuberculosis while in prison. The "friends of the American slave" erected the monument in his honor.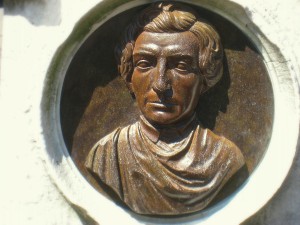 Both of these gravestones can evoke conversation about slavery in the U.S. and how it played a role in the Civil War.
Joseph Palmer, Evergreen Cemetery (Leominster)
Mental health was a pressing issue throughout the 19th and 20th centuries in the United States. Enormous Gothic-like mental hospitals dotted the landscape of Massachusetts and served as reminders to passerby of the "lunatics" inside. Yet, one characteristic of a "lunatic" has become wildly popular today—beards. Joseph Palmer, an abolitionist and transcendentalist, was known around his home in Western Massachusetts for his long beard, which ran against the societal norms of the time.
One day Joseph was assaulted by a group of men who tried to shave his beard, and in the process, Joseph stabbed two of the assailants. He was jailed shortly thereafter for "unprovoked assault." After being released from jail, he became further involved in social justice efforts, contributing to prison reform and the temperance movement, in addition to the abolition of slavery. This gravestone can contribute to various discussions of social history in the 19th and 20th centuries.
Mr. William Taylor, Elmwood Cemetery (Holyoke)
Along with mental health, another grave concern in the U.S. was public health. Men, women and children were plagued with smallpox, tuberculosis, syphilis, polio, and more. Mr. William Taylor, buried at Elmwood Cemetery in Holyoke was one of those victims, having died at the age of 23 due to smallpox.
Often you'll see a gravestone bearing the names of several children in one family. Unfortunately, when one child contracted a contagious disease, the other children in the family would likely also contract it, and many would subsequently die–sometimes an entire family would perish from the disease. These types of gravestones can serve as a lesson on the importance of public health, hygiene, and the sciences.
Digging deeper
With dozens of cemeteries across the Commonwealth, educators, historians, and community members can and should use them as educational opportunities. If you're a teacher who wants to integrate cemeteries as a supplement to the classroom, resources are already available for easy execution: contact the various cemetery associations, "friends of" cemetery groups, or city and state cemetery commissions for lesson plans created specifically for educators to use within their graveyards. For example, the Oregon Historic Cemeteries Association has a program called GATE, or the Graveyard Appreciation Through Education program.
You should first reach out to a cemetery directly or contact the town cemetery commission to determine if lesson plans or tour scripts are available. If resources are available, the cemetery or commission may also be available to lead a tour for students, community members, or other educational groups. Many cemeteries also have "scavenger hunts" for various age groups. If lesson plans aren't available, the Massachusetts Historical Records Advisory Board, Office of the Secretary of the State and Mass Humanities put together a resource book as a template for educators in teaching local history based on cemeteries. The publication walks educators through teaching tips, do's and don'ts of handling gravestones, critical thinking questions, and other resources for Massachusetts cemeteries.
Lastly, the Association for Gravestone Studies is headquartered in MA and can provide further information and assistance to anyone interested in using the cemetery as a classroom. Let's get out there and learn about our state, and Happy Halloween!