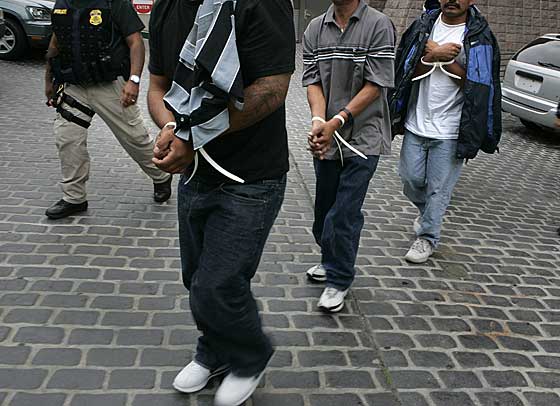 The 2016 New Year has been rung in with panic in Massachusetts' immigrant communities as families brace themselves for the sorrow of being unnecessarily ripped apart. Immigration and Customs Enforcement (ICE) conducted targeted immigration raids nationally, beginning shortly after Christmas, demonstrating just how cruel the agency can be with its disregard for tradition during what many consider a sacred time of year.
The agency announced it is targeting families and children who fled violence in Central America during a surge of migration in the summer of 2014. Such women and children who claimed asylum at the U.S. southern border were mandatorily detained in special for-profit family immigration detention centers that were hastily erected to deal with the crisis.
This is not the first time in Massachusetts' history that migrants fleeing horrific violence in their homes were later targeted for removal by enforcement authorities and returned to potential death.
The families migrated to seek protection in this land of fabled freedom, as they fled horrific gang violence in their home countries of El Salvador, Honduras, and Guatemala. They reported that their husbands had been murdered, their siblings beheaded, their daughters raped, their lives lived in constant fear. Eighty percent of these families passed an initial interview with an asylum officer, establishing they have a credible fear of persecution in their home countries. Such women and children were eventually released from family detention centers run by private prison corporations to await the outcome of their legal cases.
Now these survivors of violence, these survivors of our U.S. immigration detention system, have lost their asylum cases and have been ordered deported due to an extremely flawed civil immigration court system. The fear these migrants endured in their home countries is present throughout the U.S. today because at any moment they may be the subjects of immigration raids that could be death sentences if they are deported.
This is not the first time in Massachusetts' history that migrants fleeing horrific violence in their homes were later targeted for removal by enforcement authorities and returned to potential death. During the 1850s, after the passage of the Fugitive Slave law of 1850, slaves who had fled for their lives in the Southern United States, seeking safety in the free states of the North, were subject to be returned to slavery with little due process under the new law.
Just as communities are organizing now to educate community members about what to do if they are the subject of an immigration raid, ally communities in Boston during the 1850s posted signs warning runaway slaves and free blacks about the dangers of slave catchers who could attempt to return any black person to slavery because the policies so grossly favored the interests of slave owners.
This history has been mostly forgotten, though it is so intimately tied to the way we treat migrants in the U.S. today. This is why my non-profit organization, Community Initiatives for Visiting Immigrants in Confinement (CIVIC), created the digital humanities project entitled Community Bonds: Life Inside Immigration Detention in Massachusetts. The project is composed of five animated and illustrated short films that highlight the first-person experiences of people who have been torn apart from their families and imprisoned in our immigration detention system.
Our goal for the project was to lift up the voices of people in immigration detention in Massachusetts whose stories are withheld from the public due to their isolation. We also wanted to create an archive of the present, to educate Massachusetts residents about the detrimental effects of immigration detention today and document these stories for future generations. We decided to situate these stories within a historical framework, as many of the policies within the modern immigration detention system are actually centuries old. On the project website, we created a historical timeline of all the laws we believe have led us down the path of creating our modern system. The timeline invites you to think about your own family's intersection with this history and consider posting it to the timeline.
Community Bonds helps us to remember our past and relate it to our modern immigration detention system. It provides a window into the experiences of people whose lives have been torn apart by our immigration policies. It asks us to ponder why we as a society welcome or exclude strangers. It invites us to imagine ourselves in the shoes of a person who must fear that their wife or child will be forcefully taken away from their home in the middle of the night and imprisoned. Our hope is that by educating the public about the realities of this unjust system, and through building alliances that are attentive to the legacies of our shared and forgotten histories, we can abolish the current immigration detention system, as we know it will be recorded and recognized in future history books as a huge mistake.