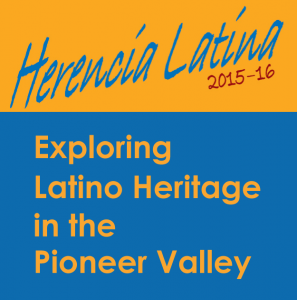 On Thursday September 17th, around twenty-five people gathered at the Shea Theater in Turners Fall to watch episode six of Latino Americans, the six-hour, 3-part documentary that aired on PBS in spring 2013. The screening was part of this year's Herencia Latina programming, a yearlong initiative organized by Pioneer Valley History Network with a slew of partners in western Massachusetts. As a local scholar from the University of Massachusetts Amherst who specializes in Latina/o studies and media, I was invited to introduce the film and facilitate the discussion afterwards.
But before the actual film screening, Turners Falls RiverCulture organized a community event in downtown Turners Falls that included a very popular children's mask making activity, a well-attended Latina/o musical performance by the duo Lorena Garay & Eugenio Huanca, an art exhibition that featured Latina activists, and Mexican and/or Central American food by the local restaurant Great Falls Harvest.
As my husband and I walked from the musical performance in Spinner Park to Shea Theater, a young Latino walked by and said hello to us. When I responded in Spanish, he did a double-take and asked if I spoke Spanish. I said yes, and he immediately asked where I or my parents were from and if we lived in the area. He shared with us that he was from Guatemala and arrived about a year ago to Turners Falls to work in the local agricultural farms. Victor was attending the community event with his family but was unsure if he would attend the film screening because he was still concerned whether he would be welcomed or not by white folks. I encouraged him to attend, but the highlight was how his face brightened when I told him I worked at UMass Amherst. "Wow, tu eres un profesora? Que bueno! Ojala mis ninos tambien puedan ir a la Universidad. Siga adelante!" ("Wow, you're a professor? That's great! I hope my children also attend a university, someday. Keep at it!") This encounter and the groups of Latino families present at the Herencia Latina event in Turners Falls in fact reinforced the importance of the initiative and Latino Americans film screenings. It was an opportunity for folks to come out of the shadows and participate as full cultural citizens in the life of the local community.
The discussion after the film screening of Latino Americans: Peril and Promise reinforced how critical it was to become informed of the history, contributions, and educational, economic and socio-political issues that diverse Latina/o populations and the broader communities they are a part of are facing across the United States. Audience members were struck by how the film historicized Latino refugee migration and immigration in the context of U.S. relations with Mexico, Latin America and the Caribbean, which helped clarify misunderstandings of U.S. Latino history. The audience also made connections between the film's discussion of immigration policies and the ongoing debates we are having today in our country as well as the refugee and immigration debates taking place in Europe.
I noted in our discussion that just as "immigration is at the heart of the U.S. experience," it is also at the heart of the Pioneer Valley. In Turners Fall, for instance, eastern European immigrants in the early 20thcentury were not necessarily welcomed with open arms, and in fact, faced a lot of resistance because of their ethnicity, language, religion, class status and cultural practices. Historical records note a deep sense of nativism and anti-immigrant sentiment that made living and working conditions precarious for immigrant families. Over time, these families acculturated and assimilated, but Latina/os are not automatically letting go of their racial identities, Spanish and indigenous languages or ancestral culture. Nor should they forced to have to do so. In fact, bilingualism and multilingualism should be seen as an asset that allows our youth to be open minded and more connected to a world larger than Massachusetts.
The film screening discussion ended with me stating that being reflective and revisiting history is good for us because it helps us to ask: how do we continue to grow as a diverse community and make real efforts to be inclusive, compassionate and understanding? At the end of the event, a Turners Falls Latina resident originally from Mexico approached me and said she wanted me to visit the community space most attended by Latina/os in the area because they would appreciate hearing from a Latina professor. Many of the Latina/o residents she was friends' with were quite fearful of engaging with white folks outside their workplaces, so perhaps I could share my experience as the child of Mexican immigrants. Again, such a connection would not have happened if it weren't for Herencia Latina reaching beyond the urban centers and attempting to make a positive intervention in the rural areas. These types of initiatives are meaningful and should be supported well into the future.
Herencia Latina is funded by Mass Humanities, the National Endowment for the Humanities, and the American Libraries Association. Local partners include: Casa Latina, Holyoke Community College, L.I.S.A. (Latino and International Students Association at H.C.C.), Holyoke Public Library, Springfield Museums, Springfield City Library, Turners Falls RiverCulture, and Wistariahurst Museum.