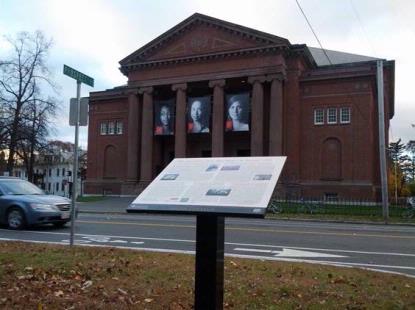 New historic markers at Northampton sites related to the abolitionist history of the city have been erected in three sites, made possible in part by a grant from Mass Humanities.
The fruition of this project follows on the heels of an extensive research process, which began with a 2011 Mass Humanities Scholar in Residence Grant that brought historian Bruce Laurie to Historic Northampton to glean from its collection and other local resources the largely ignored story of abolitionism in downtown Northampton. Christopher Clark, Paul Gaffney, Kathryn Grover and others had worked for years documenting the radical abolitionists of Florence, Massachusetts, a village in northwestern Northampton. Partisans of William Lloyd Garrison, these abolitionists had established a free-thinking, industrial, "utopian" community, The Northampton Association of Education and Industry, that included Sojourner Truth and David Ruggles as members and where Frederick Douglass was an occasional visitor. Further research established that numerous sites relating to this period and its abolitionist activism survive. The Massachusetts Historical Commission sponsored two successful applications to the National Register for properties with Underground Railroad contexts.
Little had been done, however, to understand the role more conservative abolitionists played. We therefore engaged the scholarly services of Bruce Laurie of Pelham, whose Beyond Garrison: Anti-Slavery and Social Reform (Oxford, 2007) had asserted that evangelical and political abolitionists were at least the equal of Garrison in effectiveness.
What Professor Laurie discovered, over nearly six months of research under the SIR grant and another six months afterward, was that Northampton's Liberty and Free Soilers played a significant role in the movement statewide. Community leaders among this group included Erastus Hopkins, leader of the Free Soil party in the state of Massachusetts and a State Representative, Henry S. Gere, long-time editor of The Hampshire Herald, Hamphire Gazette and Northampton Courier, J. P. Williston and Moses Breck, both temperance and Underground Railroad agents. All made Northampton an active center of resistance and political action while the Garrisonians in Florence attempted to perfect a community of reform.
On behalf of The David Ruggles Center and as part-time program assistant at Historic Northampton, I worked with Bruce Laurie. I had been involved with discovering sites in Florence relating to the abolition era and had created the African American Heritage Trail Map of the many extant structures. In conjunction with Bruce's investigation of documents, I tracked down new Northampton sites associated with the period and abolition era aspects of such well-known structures as City Hall, Duckett House and Dewey Hall at Smith College. One discovery was the home of Erastus Hopkins, Underground Railroad agent and Free Soil leader. Sadly, when the house at 101 King Street was confirmed as Hopkins', the house was already seven months into a nine-month demolition delay. The David Ruggles Center led an unsuccessful attempt to save the house which was demolished on August 1, 2012.
To make the most of the material discovered in Florence, Historic Northampton's (then) executive director Kerry Buckley felt that new abolition era themed plaques should be created to go along with those funded by an earlier Mass Humanities grant in 2006. Steve Strimer wrote and designed three Abolition Era plaques for Old South Street, Elm Street, and the Mill River Dam site in Florence. Key figures are transplanted Boston abolitionists Lydia Maria and David Lee Child who came to Northampton to raise sugar beets as an alternative to slave-grown sugar cane. From the Elm Street plaque: "Child arrived with hope for the cause but was deeply disappointed by the conservative 'iron-bound Valley of the Connecticut.' The couple rented a north room in what is now Duckett House of Smith College. Living next door, at the current Mary Ellen Chase House, was former South Carolina slave auctioneer, Thomas Napier. Visiting Napier family members brought domestic slaves with them. Maria tried unsuccessfully to convince the slave Rosa to claim her freedom."
The plaques include "QR" codes that access further information on the Historic Northampton website.