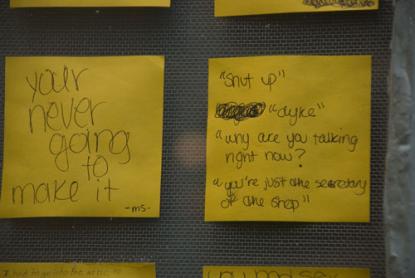 I thought I'd already heard it all, so I was surprised at how suddenly raw I felt, reading what one vocational-technical high school student had written on a yellow sticky note: "Your [sic] never going to make it." I guessed that she was quoting the words of her shop teacher.
I'd entered union construction in 1978, when affirmative action first opened the gates to women, and pioneers were often greeted with "the full welcome wagon." I went through a rigorous union electrical apprenticeship and worked on Boston-area jobsites for fifteen years, both in situations that were incredibly supportive and those that were hostile. With decades as an organizer, researcher, policy analyst and poet of this terrain, I've had the privilege of gathering stories –– formally and informally –– from many hundreds of tradeswomen across the country that celebrate achievements and camaraderie and that document intimidation and discrimination. Still, I had no idea what to expect from the one hundred high school students who came to view and discuss my mixed media installation, On Equal Terms: Women in Construction 30 Years & Still Organizing.
With support from a Mass Humanities "Liberty and Justice for All" grant and from the Brandeis University Women's Studies Research Center (WSRC), I developed On Equal Terms. The 600-square-foot installation combines audio, poetry, found objects, photo- graphs, historical documents and sculpture –– including Stella, a life-sized figure on a ladder in a diamond hardhat, and a 6-foot-square plywood bathroom shack complete with a piped toilet and graffiti –– to bring viewers into the experiences of women who work on construction sites. During the five months that the installation exhibited at the WSRC gallery, and then, at Suffolk University's Adams gallery, five Massachusetts Vocational Technical High Schools –– Greater Lowell Regional Vocational Technical School, Franklin County Technical School, Montachusett Regional Vocational Technical School, Leominster Center for Technical Education, and Madison Park Technical-Vocational High School –– brought groups of young women pursuing careers that, prior to affirmative action, would have been closed to them because of their gender. The wonderful faculty and administrators who accompanied them, used the bus rides back and forth for preparation and follow-up discussions.
In the gallery, the building trades students immediately recognized the tools of their particular trade floating up from the gang box, and the giant pinata-like flying tools in the air: the electrician's wiggies, the carpenter's T-square, the painter's trowel. The bathroom shack and Stella, the figure on the ladder, drew the most attention. I was glad that the shack was big enough to hold a small group. Some of the high school students found the graffiti on the walls familiar, while others were shocked. They listened intently to the audio –– in the bathroom shack and coffee break area –– to excerpts from the interviews I'd conducted with tradeswomen pioneers for my book, We'll Call You If We Need You: Experiences of Women Working Construction (Cornell, 1998). As a counterpoint to her diamond hardhat, and her outstretched arms that skillfully pull in cable, Stella's Carhartt coveralls are covered with tags on which tradeswomen have handwritten prejudices they've had to work against:
"a woman's place is in the home. go home"

"watch out for the Dykes"

"too sociable"
Reading them led to one student talking about the undermining comments and actions of her shop teacher, and how, after she'd reported him to her counselor, the abuse had become worse, and how, now, she wasn't sure what to do. Another student recounted the opposite experience, a teacher who took her under his wing, and gave ther lots of encouragement.
After viewing On Equal Terms, students gathered for a discussion about the art exhibition and their careers with panelists from the industry, including the National Electrical Contractors Association (NECA) manager, and women who work as pipefitters, plumbers, carpenters, electricians, and small contractors. In evaluating the Building Our Futures programs (one part of which was the field trips to visit the exhibit), Maura Russell of the Massachusetts Department of Elementary and Secondary Education wrote, "The students were able to learn about the history of the women in the trades and to have the rare opportunity to get together with young women from other schools pursuing similar careers. It was also the first time that many of the students had attended an art show. Both Brandeis and Suffolk Universities graciously provided tours of their schools, which was also much appreciated by the young women."
At the end, I passed out two sets of sticky notes and invited students to write how they'd been encouraged in their trades on the green notes, and on the yellow, how they'd been discouraged. I found their remarks so moving, that I added them to a casement window that now tours as an element the installation.
Photo: Susan Eisenberg