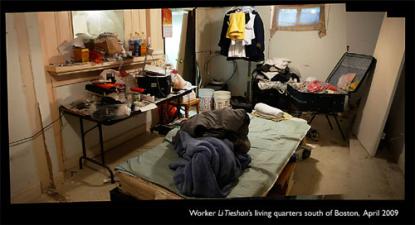 Li Tieshan lived in a half-finished basement space in a two-story Cape house in a quiet neighborhood, in a suburban city south of Boston. He is a 65-year old undocumented worker from Tianjin, a large industrial city in northern China, who came to the U.S. nine years ago, and overstayed a six-month visitors' visa. When I met him, he had been living in his space for five years, out of the large suitcase he came with, pants and jackets hung neatly on wire hangers on utility pipes, his bed, a door propped up on cinderblocks; and his table, a plank by the bed, for his computer, teacup and for eating. He was uncertain, at the time, whether to return to his family in Tianjin, or to stay on in America with a newly found woman-friend. He rather liked America. Although, in all cases, he did not have the airfare to go back.
I got to know Li Tieshan (not his real name) through Chinese Progressive Association, a community service agency in Boston that helps Chinese immigrant workers with little knowledge of English, with work, English-as-second-language classes, workplace problems, and ways to navigate the systems of social services, benefits and compensations. I had been involved with its adjunct art gallery for several years. When I was first involved with the gallery, we were looking for ways to use the art gallery to address the complicated issue of undocumented immigrant workers in America, for both the Chinese community and the community-at-large.
"Pilgrim Father/illegal son" comes out of what seemed like an apt pairing of opposites: "Pilgrim Father," in its socialized form, may be termed as the ultimate in American genealogical pedigree– the nobilities of our society; "illegals," on the other hand, may be rated at the very bottom of this social formulation–the lowest of the lows. Yet, if we look at history, the Puritans of 17th Century England, in their time, were cast much as the detritus of their society, same as the workers who come to this country illegally to look for jobs. A case may be made of a kindred connection of those emigrating, severing rooted bonds, seeking new life in a foreign land.
At the start, we were thinking of interviewing two or three Chinese undocumented workers, including both men and women, to obtain a broad picture of their lives. When we located Li Tieshan, he was so outspoken and forthcoming with his life and feelings, that to generalize would be to deny his specificity. He filled fully the part of the "illegal son." After an initial meeting, my assistant and I had two extended interviews at his place, with his permission, to document all its various aspects.
For "Pilgrim Father," I had wanted to select one of the working men recruited along the way, rather than a leading figure–someone like John Alden, a cooper, more of an equivalent to the Chinese worker. But during my research, all texts, both original work and subsequent histories, led back to William Bradford's writings. On reading his "Of Plymouth Plantation"–the detailed accounts of the reasons to leave England and Holland, the distress along the way and the uncertainties they found in arriving—I felt that his honest telling fit perfectly with the stories of the Chinese immigrant. I extracted the narrative, synopsized it, and translated it into more current English, while preserving the flavor and complexity of the original. I walked the dunes near Provincetown on blustery November days, between freezing snow squalls, seeing much the same desolation as Bradford's first look at America. I grew to have much compassion for him. The selected texts got translated well into literate Chinese by a newly-arrived Chinese graduate student of religion.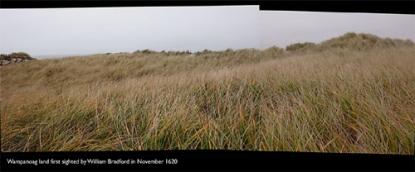 The materials on the Chinese worker, also, needed some sorting: key parts of the interviews were translated into English–made quite difficult by the man's strong Tianjin accent. Opportunely, a copy of the interview was taken to Beijing, and got transcribed by a Beijing TV station's transcriber. The English translation and the Chinese transcription matched well–pieces came together.
Composing the photo-based mural on the computer, as an artist, was a familiar process. The final work, in two 27-foot-long segments, one on each person, was fabricated and mounted on opposing walls. Their narratives are told in panels underneath.
Ultimately, there is no agenda to be pushed. As William Bradford himself essentially says, when he first used the term "pilgrim" (not capitalized) to describe those leaving for America, referencing Hebrew xi.13-16 of the Geneva Bible (favored by the Puritans): "We know we are all pilgrims–strangers in the world, having abandoned our own country, look to find a better one in another country, trusting in God to provide us a hospitable place."
Or, as the young Beijing transcriber, a woman from a rural village, reflects: "Had I not taken my path, I might well be in the same position."
"Pilgrim Father/illegal son" is a project of Chinese Progressive Association, funded largely by Mass Humanities. Currently, it is on show at Wong/Yee Memorial Gallery, One Nassau St., Boston, between Washington St. and Harrison Ave., the hours are Monday to Wednesday, 9 AM to 5 PM, and Saturday, 10 AM to 12 noon. The Gallery may also be entered through the office of Chinese Progressive Association, 28 Ash St. Boston, Massachusetts. This show stays up until January 21, 2012. Afterwards, we hope to tour to cities and towns around New England.
Photographs by Wen-ti Tsen