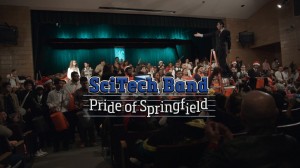 Florentine Films/Hott Productions finished two films this year that, at first blush, would appear to have no connection at all.  One is SciTech Band: Pride of Springfield, a half-hour film about a band in Springfield, MA that has a profoundly positive effect on the graduation rates of a troubled high school.  The graduation rates for most students in the school hovers around 45%.  If a student stays in the band for at least a year his or her chances of graduating jumps to 95%.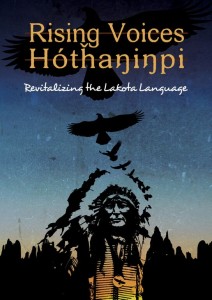 The other film, Rising Voices/Hótȟaŋiŋpi, a one-hour documentary about the efforts to revitalize the Lakota language, which is in danger of dying out.  Before Columbus, Lakota was one of 300 Native languages spoken north of Mexico. Today only half of those languages remain; experts say that by the year 2050, just 20 indigenous American languages will exist.  Only 6,000 people speak Lakota, and the average age of its speakers will soon be seventy years old.
The SciTech Band film takes place in Springfield, MA, a city of 150,000 people on the Connecticut River in the southwestern part of the state.  "Rising Voices" was filmed in North and South Dakota, mostly on the Standing Rock and Pine Ridge Reservations, home to the majority of the Lakota (Sioux) Native Americans.  The locations are as far apart geographically as they are culturally.  The Dakotas are sparsely populated by ranchers and farmers of mostly German and Scandinavian descent and members of the various Lakota tribes; Springfield is a majority African-American and Hispanic working class city.
Both stories, however, involve communities with deep economic and social problems.  Kevin Locke, a Húŋkpapȟa Lakȟóta, musician and educator in Wakpala, South Dakota, says this in the "Rising Voices" film:
Every 10 years, the US Census ranks all the counties according to economic indicators. Among the 10 poorest counties, every 10 years, every census, usually the six or seven poorest counties in the nation are here in South Dakota.  And these are the reservation areas, with conditions of poverty, conditions of social dysfunction.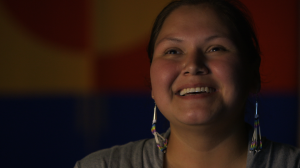 In Lakota country, many people see language loss as part of this problem – and language revitalization as part of the solution.  Nacole Walker a Pȟabáksa Dakhóta & Húŋkpapȟa Lakȟóta and the Standing Rock Language Revitalization Coordinator told us:
There are so many issues here on the reservation with drugs and alcohol, suicides. I think there's just so much that we can learn from our own language and the fact that our language is always here with us and that we've had just this big gap where it hasn't been there. And it really kind of left us at a loss for what to do, how to conduct ourselves in our own communities, with our own families and everything. And I don't think the language is the only way that we can, you know, bring us back to being a really respectful and productive society. But I think it could help a lot.
The one source of pride on the reservations is the attempt by elders and outsiders to bring back the language.  It has been shown that learning one's native language is a way for American Indians to improve in school and better their chances at breaking the cycle of poverty and illness.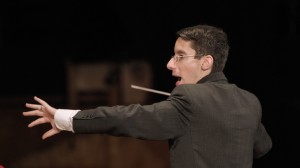 For Gary Bernice, the band director at the Science and Technology High School in Springfield, MA, breaking the cycle of poverty and illness is his highest priority.  In our first film interview with him last year he said this:
I think one of the biggest shocks for me coming here …living with students and living in the same city as them — is seeing what they have to deal with. I've seen students deal with some pretty rough things; be it abuse, drugs, homelessness.

What we're doing here is not just music. If it was, if it was music alone, it's great and it's wonderful, but it can't be part of, it can't be the whole story. And it's a model that, you know, if I'm struggling in this, if I'm having a hard time in this, and I keep pushing through, and I can be successful here, then you can do that anywhere.
Echoing Nacole Walker, eighteen hundred miles away in North Dakota, is Omyra Morales, a SciTech high school student and flautist who knew nothing about music when she joined the band.
In ninth grade when I walked in through those bands doors, I didn't know a note; I didn't even know how to read music and four years later I know basically everything a musician should know.

I see freshmen now and, I mean, you can tell who is more able to do this and who isn't so sure. And those are the ones you go for. And when you mentor them and talk to them, they open up to you and it becomes easier to teach them and you make a connection. And after that they become a whole new person that they didn't think they were or could ever be. And it's a very life-changing experience.
The nickname for the SciTech Band is the "Pride of Springfield," and that's no exaggeration.  In the past few years the band has played at the governor's inauguration, the Community Foundation's annual meeting, the Annual Arts Alive Celebration, and much more; they are in demand.
Across Lakota country, language-learning programs at all levels, from pre-school to adult classes, are taking root.  Like the SciTech Band, language revitalization is a source of pride in Lakota country.  And like the band, the programs can only reach a select few.  There are fifty-four public schools in Springfield; seven of them have music programs.  There are 17,000 school-age children on the North and South Dakota reservations; approximately sixty children are in immersion schools.  Yet the SciTech Band and the language school provide a spark of hope and pride that may change the lives of both communities for the better.
---
On the Rising Voices/Hótȟaŋiŋpi website you can see five bonus videos. The film will have its Massachusetts premiere at the Academy of Music in Northampton, MA on Sunday, October 18 at 4:00 PM. The event is a presentation of WGBY-TV and is free and open to the public. Visit the Academy of Music's website or the film's Facebook page for more info.
On the SciTech Band: Pride of Springfield website and Facebook page you can see the entire film plus four bonus videos and much more.
RISING VOICES/HÓTȞAŊIŊPI, a film by Lawrence Hott and Diane Garey, written by Ken Chowder, is a production of Florentine Films/Hott Productions, Inc. in association with The Language Conservancy. The project is funded by The National Endowment for the Humanities, The Administration for Native Americans, The Dakota Indian Foundation, the South Dakota Humanities Council, and the North Dakota Humanities Council and Vision Maker Media with major sponsorship provided by the Corporation for Public Broadcasting. Executive Producer for The Language Conservancy, Wilhelm Meya; Executive Producer for Vision Maker Media, Shirley K. Sneve.
SCITECH BAND: PRIDE OF SPRINGFIELD, a film by Lawrence Hott, was edited by Rikk Desgres. It was sponsored by a Kickstarter Campaign in association with Springfield School Volunteers. The production received additional support from MassHumanities, Big Y Foods, and private donors. Project partners are CBS 3 Springfield – WSHM, Springfield School Volunteers, The Republican.