11:00 P.M., November 4, 2008, the networks call Obama the victor. Was this real? Had Obama actually won the election?
12:02 A.M., November 5, 2008, President-elect Barack Obama is giving his victory speech when tears come to my eyes. This is real; Obama will be the President.
But why did I cry when the candidate I voted for won?
My experiences of prejudice have been indirect. I know that I cannot really fathom the impact of this evil on my friends and fellow citizens. But, over time, I have moved from childhood obliviousness about bigotry to acceptance, as an adult, of the argument that racism is America's original sin. We are all diminished by this sin; and by the same token, we are all blessed when we move to eliminate it.
Growing up in West Virginia, race was not very obvious to me. The state was not lily white, but the small town of Marmet seemed that way. But gradually, race seeped into my consciousness. I vividly remember my father commenting on how carefully a black driver observed the speed limits as we followed him through Virginia on our way home from a vacation at the Jersey shore. But the meaning of that comment was only obvious to me much later in life.
The impact on West Virginia of the Brown vs Topeka Board of Education decision increased my awareness of race, which had been virtually invisible to me before this decision. West Virginia schools were integrated relatively quickly. From then on, through high school, college, and graduate school, I was in integrated classrooms. I could no longer be oblivious to race. In addition to schooling, my understanding of the Christian ideas of loving one's neighbor and equality before one's Maker (I was taught that Jesus loves all the little children, red and yellow, black and white) helped me gradually develop an awareness of the evils of American bigotry, specifically, but also of prejudice in general. College and graduate studies exposed me to the horrors of the Holocaust, deepening my aversion to man's inhumanity to other humans.
A college friend, from Haiti, could not get a haircut in town, a town on Philadelphia's mainline, a wealthy area, to be sure, but still bigoted. Many years later that same friend told me of being a victim of police racial profiling in the beautiful town in which he then lived. During graduate school, a Nigerian friend and I shared a hotel room on a long winter drive from Philadelphia back to graduate school in Denver. While nothing was said, I felt the hostility in that hotel.
My first teaching position, at a small college in a small southern town gave me a crash course in prejudice. While many faculty were against racism, there were subtle and not so subtle undertones. And living in a small southern town made the impact of slavery and the decades of malign policies after the Civil War starkly obvious. The contrast between white and black neighborhoods was horribly dramatic. I could feel the fear when I marched through that town in an interracial tribute to Martin Luther King, Jr., a few days after he was assassinated. King's death and the assassinations of the Kennedy brothers extinguished hope for continued progress against bigotry in general and American racism in particular.
After two years in North Carolina, I moved to Massachusetts, in time for the bussing crisis and the flagpole assault of Ted Landsmark, a young black lawyer, at City Hall. Prejudice was deeper than I had thought, even in Massachusetts.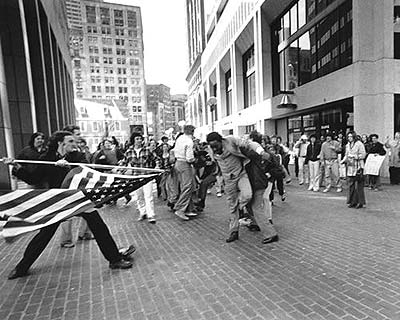 As a student of politics and history, I am well aware of the progress made in this country during the Civil Rights era. But despite this progress, the stain of racism has persisted.
So the stoic white guy cried because he could not believe that, after all these decades, the United States was finally taking another major step to purge this stain on the honor of this country. The election of Barack Obama does not eliminate the sin of racism. But it does give reason to hope that this nation can again make sustained progress to eliminate it. Equally important, the Obama election moves us closer to fulfilling the promise of the Declaration of Independence: equality in the inalienable rights to life, liberty, and the pursuit of happiness.
Photo information: "The Soiling of Old Glory", by Stanley Forman for "The Boston Herald American," April 5, 1976. This photograph won the Pulitzer Prize for Spot News Photography in 1977. Ted Landsmark was hurt in the scuffle but not stabbed–he is alive and well and still working in Boston.