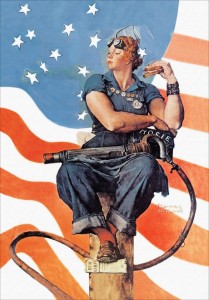 Editor's Note: Labor! The other category of life and history you should care about. April 28 is Worker's Memorial Day: "Every year on April 28, the unions of the AFL-CIO observe Workers Memorial Day to remember those who have suffered and died on the job and to renew our efforts for safe workplaces." Close on its heels is International Workers' Day on May 1— and did you know that May is Labor History Month?
I can think of no better introduction to contemporary thinking on labor and gender issues than pointing readers to the work of Susan Eisenberg. Poet, artist, electrician, and labor activist, Susan Eisenberg is the artist behind a mixed media exhibit called "On Equal Terms," which received a project grant from Mass Humanities. She just checked in with a group of her followers that includes me to update us on the state of the union for women gaining entry to the trades, painting a picture of non-progress by way of statistics, that she demonstrates how to access in her most recent "On Equal Terms" blog post, "Statistics—Collected and Imagined." For April 2015 marks the 37th anniversary of Executive Orders issued by President Carter, which were developed to help women gain access to jobs in traditionally male-dominated trades. Spoiler alert: fewer than 3% of construction trade jobs were held by women in 2014.
 Susan will be co-leading a poetry workshop with Maggie Cleveland at the Mass Poetry Conference this weekend, "The Poetry of Work." I asked her for a poem about work to include with this blog post. It will be displayed at this weekend's Women Build the Nation conference in LA.
"Power" was first published in the September 2013 issue of The Progressive, and is posted here with permission of Susan Eisenberg.
Power
While her classmates cut in panels, bent pipe,
worked from blueprints, the black girl
ran for coffee, rustled stock, drilled
ceiling anchors by the mile, and swept
the shanty out; often worked alone. So,
when she was paired with a crackerjack
mechanic, a brother, and the foreman asked
how they'd like to disconnect
a transformer, high voltage, placing the cutters
in her palms, she leapt
like a racehorse out the starting gate.
The white boss walked them over to where the end
of cable lay in flaccid loop. Lifted it to show
the circle of fresh-cut copper, round
and wide-eyed as a shiny dollar coin: proof
the power was dead. She was fired up.
But Omar, bless that man, had to teach.
They walked the length of the site
and back, retrieved his meter, as he explained
good practice: test equipment, take no one's word.
The meter buzzed: 480 live.
The two looked down; saw wet mud
beneath their boots. Looked up:
white faces –– like in a postcard
from a lynching –– gathered
on the ledge above
to watch.
© Susan Eisenberg, 2013
"Women in Trades Still Waiting for Fairness" by Susan Eisenberg
An Op Ed published by Progressive Media, and posted here with their permission.
Thirty-five years ago on April 7, President Carter issued federal regulations that opened construction jobs and trade apprenticeships to women. Carter laid out a path that should have led to women holding 25 percent of the construction jobs by now. But we've barely gained a toehold.
Only 1.6 percent of carpenters, 1.8 percent of electricians, 1.3 percent of operating engineers, 2.9 percent of construction laborers and 2.5 percent of the overall trades work force are female, according to the latest reports from the Department of Labor.
Women like myself who entered apprenticeships in 1978 remember the robust recruitment, training and government oversight that made unions and contractors take us seriously. We believed the Department of Labor's "There's a future in it!" posters advertising apprenticeships to women, and we believed the government had our backs.
Then President Reagan reversed that momentum. His administration cut full-time employees at the Office of Federal Contract Compliance Programs by one-third and made it known that excluding women from a fair shot at careers in the trades carried little consequence. The effects are still felt today, as the compliance oversight agency operates with half the staffing that it had under Carter.
A woman walking onto a construction jobsite today may find herself time-traveled back to 1963, when it was legal to discriminate in hiring, promotion and layoffs.
It is not uncommon to hear of women who are carpenters or line workers being told on their first day by the foreman, "I will run you off of this job before this week is over."
The stories are remarkably similar across the country.
Tradeswomen have been locked in a porta-potty (or in an electric closet).
They have been "counted" in an apprenticeship program but not given adequate training — or sometimes not even sent out to a job.
Biased evaluations have derailed hard-earned careers.
Unsafe assignments intended to scare women into quitting have led to serious injuries or fatalities.
Tradeswomen have faced sexual assaults and even rapes on the job, and then have been advised to "forget about it" by a training director or business manager.
An industry that depends on the infusion of public dollars, tax breaks and other accommodations needs to practice fair employment, even when the perpetrator of discrimination and abuse is someone's friend or brother-in-law or long-term employee.
Recently, the construction industry has been adding new jobs at an accelerating rate — 150,000 in the past five months.
For women to share in these good jobs, actions need to be taken.
Two-tier training systems need to be combined into one that trains all apprentices for careers. This could be tracked by counting apprentices and journey-level workers as separate occupations.
Project Labor Agreements that ensure prevailing wages for workers need to include funded plans for fair hiring.
Job foremen and union stewards — not the victims — need to be responsible for ending discrimination on job sites.
The 1978 regulations need to be updated to match today's work force. New regulations, expected two years ago, are now expected in October.
We've been waiting a long time for fairness on the construction site. President Obama, where do you stand?