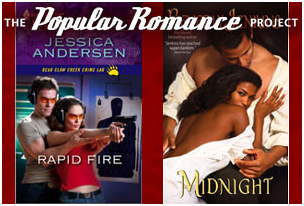 Romance almost always finds a way, whether in fiction or scholarship. Some enterprising filmmakers are making a very solid case for love and letters.
It is unexpected to find romance novels at the center of scholarly discussion. Usually the books are derided as pulp and rarely considered the topic of serious research. The genre, however, is being cast in a new light thanks to the work of the Popular Romance Project. The depth of the material and its popularity inspired filmmaker Laurie Kahn to issue a multi-platform proposal for the Popular Romance Project, including an interactive web presence, a conference, and a national tour for a documentary film, Love Between the Covers, produced in part with funding from a project grant by Mass Humanities.
"There's a huge spectrum of the kinds of books that are in the genre, and the kinds of women that write and read them," Kahn told Library Journal, touching on a key aspect of the genre; that it is dominated by women and claims nearly half of the annual mass market paperback market in the United States. Through the project, authors, academics, readers, and librarians are offering their insights about the genre and the project website is a growing repository of their contributions. In fact, there is an outpouring of exuberant fans and engaged, responsive authors willing to disclose their thoughts on the state of the industry, its history and sociology. These exchanges are augmented by new media and are a goldmine for researchers.
Love Between the Covers will premiere February 10, 2015 at the Popular Romance Project conference hosted by the Library of Congress.
The Filmmakers Collaborative
in Waltham was awarded a $10,000 Media Project Grant to develop for a documentary film about romance fiction and its authors. [Project Director/Filmmaker: Laurie Kahn; Date Awarded: 6/11/2010]