This fall, each Clemente Course student will receive five books as part of their instruction in literature and US history. The selections cover a whole world of experiences, from Ancient Greece to the modern farm fields of Delano, California. To many, the lessons contained within these titles have been transformative, whether they are grappling with family dysfunction or finding their voice through political action. These titles, like the Clemente Course overall, demonstrate the wealth of opportunities we can draw upon when we have access to the full power of the humanities. Your contribution will put these books into more hands, please give today.
Intro to Literature professor Liz Fox selected family dramas for her course's focus. "Often idealized by popular culture," she writes, families in literature are "often less than ideal." Her four selections help students develop close-reading skills and assess differences between texts. Cat on a Hot Tin Roof was Tennessee Williams' favorite of the plays he wrote. It explores the family life of Big Daddy Pollitt, a cotton tycoon, on a fateful evening of scandal and attempted conciliation. August Wilson's Fences portrays the effects of segregation in the person of an embittered father with strained relationships. King Lear and Oedipus depict the tragic consequences of self-absorption and willful ignorance, for the family and society alike.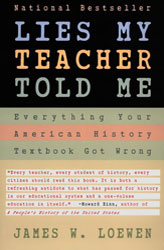 Ousmane Power-Greene, who teaches US history, chose sociologist James W. Loewen's Lies My Teacher Told Me to complement his selection of primary sources for the class reading list. Combined, these texts allow students to "discover how poor people, women, and minorities used mass media and culture to challenge the vestiges of privilege that continued to shape economic, social, and political life in the nation," Power-Green writes. Loewen's book evaluates and criticizes American history textbooks for their failures. In particular, he shows how the textbooks elide the less savory aspects of American history—slavery and the treatment of Native Americans—in favor of lionizing well-known historical figures. The approach, he explains, limits students' understandings of the contemporary ramifications of such events.

These important titles will be on every Clemente student's shelf this fall. If you agree that a broader worldview results from humanities education, join us in encouraging and empowering Clemente students with a contribution to sustain the program today.