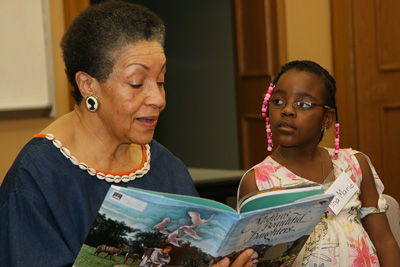 Each FAIR series brings children and their primary caregivers (parents, grandparents, foster parents, etc.) together to enjoy outstanding picture books and thought-provoking discussions. In each 90-minute session, a trained FAIR storyteller models active reading and leads a lively discussion that allows participants to share and reflect upon their responses to the stories.
After applying with Mass Humanities, FAIR storytellers are connected with project directors—or may themselves also serve as project directors (more information coming soon). All FAIR storytellers attend a training with Mass Humanities before facilitating a FAIR series. FAIR storytellers are teachers, performers (including professional storytellers), librarians, and more—anyone who has experience working with children and who has an interest in children's literature.
Most FAIR series are held in public libraries and community centers, and most FAIR series run for four or six consecutive weeks (usually on weekends). FAIR storytellers commit to leading all sessions, and they may note their preferred areas of Massachusetts and their preferred times of year. FAIR storytellers may also note which of the FAIR syllabi they feel comfortable using. Mass Humanities accepts applications from FAIR storytellers at any time.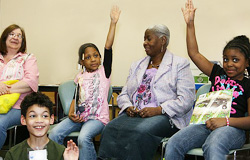 All FAIR storytellers are expected to model active reading and to facilitate lively discussions of books and humanities themes. FAIR participants—both children and their adult caregivers—receive opportunities to enjoy, comprehend, respond to, and interact with picture books and with each other; such in-depth exploration of meaning may be new to some participants. Consequently, in the application, FAIR storytellers are asked to describe specifically how they envision their work with families in a FAIR series.
Some ideal FAIR storyteller attributes:

Experience leading groups of children
Experience leading multi-generational groups
A humanities background (college education in a humanities discipline)
Teaching experience
Ability to speak languages other than English—especially Spanish
Has a love of children's literature
Has a love of public libraries

All FAIR sessions are 90 minutes long and include a healthy snack. Grants awarded for FAIR series provide $300/session for FAIR storytellers; other duties—such as serving as a project director or taking responsibility for publicity—may be held by FAIR storytellers for additional compensation. In addition to serving as project directors themselves, FAIR storytellers may also encourage organizers at local libraries and community centers to apply to host FAIR.  More information coming soon.


Please contact Abbye Meyer (413-584-8440 x102) with questions or for help.