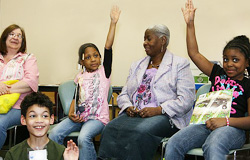 FAIR is a humanities-based reading and discussion program for children and their parents or other primary care givers (e.g., grandparents, foster parents, etc.) that brings children and adults together to enjoy entertaining and thought-provoking presentations by seasoned storytellers of outstanding picture books, and to share and reflect upon their responses to the stories.
The program runs for six consecutive Saturdays in the fall (October-November) and again in the spring (March-April). The current model features one storyteller per library—storytellers commit to leading six consecutive sessions. Each May, we invite all Massachusetts libraries to apply to host the program. We choose five libraries for the fall round and another five for the spring round.
We accept applications from storytellers at any time. At the end of each summer, we schedule a required summer orientation meeting for participating storytellers and librarians at one of the hosting libraries.
FAIR Storyteller Application form
Some ideal FAIR storyteller attributes:

Experience leading groups of children
Experience leading multi-generational groups
A humanities background (college education in a humanities discipline)
Early childhood education experience
Spanish speaking
Willingness to travel some distance
Interest in presenting simple craft activities
Has a love of public libraries

All sessions are one hour and a half long, with a break for a healthy snack (provided by the host library) in the middle of the session. Some storytellers have brought and supervised simple craft activities for children as well, and these activities help forge different connections with the themes of the books as well as provide a break from sitting still.Mass Humanities pays storytellers $400 per session as well as mileage reimbursement. For additional information on the program, visit the FAIR Web page for host libraries, and the two syllabi that will be in use. Storytellers choose five pairs of books to present, and the first pair of books is distributed at the host library's introductory FAIR session. Participating families receive books in advance of the sessions during which they will be read and discussed: the idea is that families read the books together at home and then come to the FAIR session familiar with the books and ready to discuss them in the group (storytellers do relate the stories in-session, either with traditional read-aloud techniques, by asking participants to take turns reading sections, or by other creative means).

If you'd like to discuss the program further, please feel free to contact Abbye Meyer (413-584-8440 x102).