What is it?
Literature & Medicine: Humanities at the Heart of Health Care™ is a six-month long program that allows medical professionals to reflect on their work through the power of literature. Hospitals host scholar-led discussion groups and together they explore works of fiction, poetry, drama, and nonfiction that illuminate issues central to caring for people, whether they are well, sick, or dying.
Who participates?
Doctors, nurses, community health workers, policy makers, hospital trustees, and allied staff attend along with the scholar who facilitates each session.
What does this program do?
The participants learn to deliver better healthcare by:
exploring their responsibilities to their patients and colleagues;
understanding the human dimensions of their work;
questioning the assumptions they make;
and developing connections between the scientific language of medicine and disease and the day-to-day realities of their patients' experiences.
After attending this program, participants report that they have a better understanding of the needs and concerns of their patients and of their co-workers, thereby enriching working relationships and strengthening their sense of common purpose.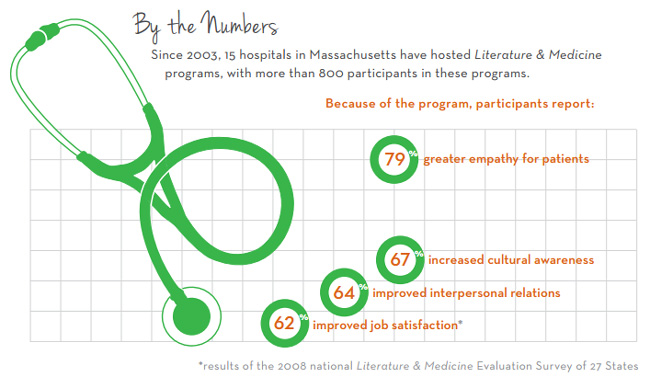 How do I get the program at my hospital?
For further information on the cost of the program and to explore the possibility of bringing the program to your hospital, please contact Rose Sackey-Milligan at Mass Humanities: (413) 584-8440 x101. The program has been offered, with great success, in over 100 hospitals throughout the nation, including nine in Massachusetts.
Who funds it?
Mass Humanities provides the reading materials, syllabi, and ideas for scholars.  The host hospital pays the scholar, provides the meeting space, provides a light dinner for the participants, and provides a liaison to advertise and schedule the program.
Literature & Medicine: Humanities at the Heart of Health Care™ was developed by the Maine Humanities Council.