Igniting a Passion for History
A Conference for Massachusetts History Organizations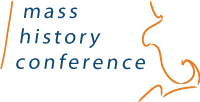 Monday, June 12, 2017
Hogan Campus Center, College of Holy Cross, Worcester
The 13th annual Massachusetts History Conference features the dual highlights of exploring how to ignite a passion for history among our public, as well as launching the Mass History Alliance, a new endeavor to support and advocate for all public history organizations and their work in Massachusetts.
Public historians are responsible for igniting a passion for history and consciousness of the past, and fostering public dialogue. This year's conference will showcase the ways that public history organizations and institutions large and small inspire and engage audiences and constituencies.
In breakout sessions and workshops throughout the day, we will focus on "Igniting a passion for history" (in all directions: local people, kids, legislators, tourists, underserved audiences, potential board members, the works) and this conference will be largely about the art of doing that from as many angles, ranging from the visionary to the daily practical.
Keynote speaker
Liz Sevcenko, Director of the Humanities Action Lab, who will explore how to use history to engage the public and foster civic dialogue through history. Read Liz's bio.
Registration Fees for Day-Long Conference
Fee includes workshop, morning refreshments,
buffet lunch (vegetarian option available), and afternoon snack
Registrations cannot be refunded; however you may send another person in your place.


Detailed Program | Presentor Profiles   
ONLINE REGISTRATION IS NOW CLOSED.
You may register as a walk-in on Monday, June 12th.

$90
Standard Fee per person
$60
Student Fee (include copy of student ID with registration or bring ID to event if registering online)
$80
Per person for 3 registrants from same organization at the same time
$70
Per person for 4 registrants from same organization at the same time