People's History ↔ Local History
A Conference for Massachusetts History Organizations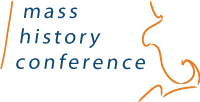 SAVE THE DATE: Monday, June 4, 2018
Hogan Campus Center, College of Holy Cross, Worcester
Hosted by the Mass History Alliance.  Mass History Alliance, a new endeavor to support and advocate for all public history organizations and their work in Massachusetts.
Details
2018 promises to be another exciting year in Massachusetts history, in large part due to our history organizations taking on the challenge of being relevant in ever-changing (dare we say, daily changing) times. We are focusing on the capacity of local history groups to respond in creative ways, seeking to turn challenging times into positive experiences of growth and sharing for our organizations and their communities. Keynote speaker Franklin Odo, founding director of the Smithsonian's Asian Pacific American Center, will focus on bringing immigrant communities to museums and museums to immigrant communities, bringing artists into history organizations, and other ways to broaden the engagement with public and local history.
Our history organizations face the task preserving and presenting "the" history of forever more rapidly changing communities and contexts. The conference will offer peer sessions, workshops, and networking opportunities to explore and learn about new ways and new communities in public history, and the roles historical organizations do and can play to become part of the social dialogue: program diversity, collaborative approaches to exhibit and program building, finding common grounds between technology, art, and history to enrich all, a broad focus on the community of communities — the process of people coming together in one place as they move from town to town and around the world.If you have any questions, please contact Patricia Bruttomesso, MA History Conference Coordinator, localhistory@masshumanities.org.
The 2018 Keynote Speaker:
Franklin Odo is the John J. McCloy Visiting Professor of American Institutions and International Diplomacy at Amherst College. Odo teaches Asian American courses in the American Studies Department. He was the first Curriculum Coordinator at the UCLA Asian American Studies Center and the first permanent director of the Ethnic Studies Department at the University of Hawai`i Manoa. He was founding director of the Smithsonian's Asian Pacific American Center, 1997-2010, and Chief of the Asian Division at the Library of Congress in 2012. His most recent book is Voices from the Canefields: Folksongs from Japanese Immigrant Workers in Hawai`i, published by Oxford in 2013. He edited the Theme Study on Asian Americans and Pacific Islanders for the National Park Service launched in Fall 2017.