Local History ↔ People's History
A Conference for Massachusetts History Organizations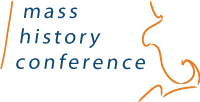 SAVE THE DATE: Monday, June 4, 2018
Hogan Campus Center, College of Holy Cross, Worcester
Hosted by the Mass History Alliance.  Mass History Alliance, a new endeavor to support and advocate for all public history organizations and their work in Massachusetts.
Call for Ideas
The Mass History Alliance invites all interested to contribute ideas for the 2018 Massachusetts History Conference, which will be held at the College of the Holy Cross on June 4, 2018. We are seeking ideas for presenters, participants, and workshops.
As we continue to take on the challenges of relevancy in ever-changing times, we want to focus on responding to these challenges in creative ways. The 2018 conference will offer peer sessions, workshops, and networking opportunities, which will allow participants to explore new trends in public history. Topics may include methods for engaging in social dialogue, creating program diversity, using collaborative approaches, and incorporating elements of technology and fine arts.
Do you have insights or exciting new programs to share? Did you develop an effective approach to fundraising? Have you learned from mistakes? Have you made meaningful partnerships or collaborations? Please send your ideas for presenters, participants, and workshops to the Mass History Alliance by January 15, 2018.
Submit Ideas to Mass History Alliance by 1/15/18
The 2018 Keynote Speaker:
Franklin Odo is the John J. McCloy Visiting Professor of American Institutions and International Diplomacy at Amherst College. Odo teaches Asian American courses in the American Studies Department. He was the first Curriculum Coordinator at the UCLA Asian American Studies Center and the first permanent director of the Ethnic Studies Department at the University of Hawai`i Manoa. He was founding director of the Smithsonian's Asian Pacific American Center, 1997-2010, and Chief of the Asian Division at the Library of Congress in 2012. His most recent book is Voices from the Canefields: Folksongs from Japanese Immigrant Workers in Hawai`i, published by Oxford in 2013. He edited the Theme Study on Asian Americans and Pacific Islanders for the National Park Service launched in Fall 2017.
To send your ideas, please fill out the Mass History Alliance contact form by January 15, 2018.