Empowering Our Communities through History
A Conference for Massachusetts History Organizations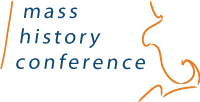 Monday, June 24, 2019
Hogan Campus Center, College of Holy Cross, Worcester
The conference will focus on empowering our communities and organizations in preserving and telling the many stories of the towns and people of Massachusetts.
The democratizing trends of the digital age are energizing our historical organizations by opening communication channels and creating new possibilities for collaborative work. These tools kindle a widespread interest in local history and allow for innovative approaches to the work local historians already do: in-person engagement with community members, collecting and sharing everyone's stories, and finding new roles for historical organizations in contemporary life.
The keynote speaker is Cinnamon Catlin-Legutko, President and CEO of the Abbe Museum in Bar Harbor, Maine. A passionate advocate for vibrant small, local museums, Cinnamon co-leads the Abbe Museum's effort to ensure collaboration and cooperation with Wabanaki people, and is co-editor of the Small Museum Toolkit and founding chair of the AASLH Small Museums Committee.
The 2019 Mass History Conference is jointly presented by Mass Humanities and the Massachusetts History Alliance.
visit mha's 2019 conference page