A Conference for Massachusetts History Organizations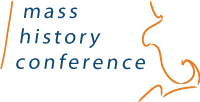 Presented by Mass Humanities, the Massachusetts Historical Society, the University of Massachusetts Amherst Program in Public History, the Joseph P. Healey Library and the Public History Track at the University of Massachusetts Boston
Monday, June 11, 2012
9:00am – 4:00pm
Hogan Campus Center, College of Holy Cross, Worcester (directions)
To mark the 100th anniversary of the "Bread and Roses" strike in Lawrence, known for a high level of collaboration between various groups of immigrants, the 2012 Massachusetts History Conference, will explore im/migration history. The conference will give special attention to theatrical expression as a tool for historians. The process we call "peopling" signifies the successive waves of migrants who move into any particular place, and presumes an empty slate at the start, and a full State at the end. The "peopling" of Massachusetts referred to in the conference title likely started some 10,000 years ago, and is in full swing today. This messy process has involved successive "waves" of internal and external migrants, jostling and helping each other, vying for "center stage" in smaller or larger theaters.
Visit the Mass History Commons wiki, a companion site where you can interact with other attendees, participate in eRideShare for the conference, sign up for space in the Mass Commons room, and later find the presentations from the various sessions.
Registration Fees

(includes morning refreshments & buffet lunch, vegetarian option available)

Registrations

cannot be refunded

; however you may send another person in your place.

Online Registration | Mail-in Registration Form (pdf)

$75
Standard Fee per person
$55
Student Fee (include copy of student ID with registration or bring ID to event if registering online)
$65
Per person for 3 registrants from same organization at the same time
$60
Per person for 4 registrants from same organization at the same time
9-9:30 AM
Registration & Continental Breakfast
9-4:00 PM
Mass History Commons
A place to exchange ideas and conversation, and to showcase your organization, projects, and products.
9:30-9:45 AM
Welcome

9:45-10:45 AM
Keynote
Address

The Power of Personal Narratives: Making Meaning of Communities in Conflict
Wendy Lement and Theatre Espresso –
American Tapestry: Immigrant Children of the Bread and Roses Strike

10:45-11:00 AM
Break
11-12:15 PM
Concurrent Sessions A

Solidarity Forever: Collaborations in Lawrence
Documenting Undocumented History
Outside the Melting Pot: Programs with and about Specific Immigrant Groups


11-12:15 PM
Concurrent Workshops A

(Space is limited. Pre-registration required.)

Skills Workshop: Practical Information for Immigration Projects
MHC Preservation Workshop: Bringing the Past into the Future: Historic Preservation Basics

12:15-1:15 PM

Lunch Buffet (vegetarian option available)

12:45-1:00 PM

Bay State Legacy Award – Jessie Little Doe Baird
Axoneme of Massachusetts: Resisting The Economy of 'Peopling' Semantics

1:15-2:30 PM
Concurrent Sessions B

Collecting Immigrant History

Anne Makepeace Talks about Identity, Language, and Migration
Natives and Strangers in Conflict: Exhibitions


1:15-2:30 PM
Concurrent Workshops B

(Space is limited. Pre-registration required.)

Skills Workshop: Thinking about Theatre in History Education

MHC Preservation Workshop: Telling Immigration Stories through Historic Preservation

2:30-2:45 PM
Break
2:45-4:00 PM
Concurrent Sessions C

Settling in Massachusetts: Who, Where, When, and Why

Redefining Instead of Redlining: Immigrants and Community Projects in Lynn
Community Histories of Food and Music

2:45-4:00 PM
Workshop C

(Space is limited. Pre-registration required.)

Skills Workshop: Creating Theatre from Your Own Sources

Award Recipients:
Jesse Little Doe Baird
jessie little doe baird is a citizen of the Mashpee Wampanoag Tribe and Wampanoag Women's Medicine Society. She lives in Mashpee and in Aquinnah, MA with her husband Jason Baird of the Aquinnah Wampanoag Tribe.
jessie is the Co-founder of the Wôpanâak Language Reclamation Project which began in 1993/94. This is an intertribal effort between the Mashpee, Herring Pond, Aquinnah, and Assonet Wampanoag communities. The aim of the project is to reclaim Wôpanâôt8âôk as a spoken language. There were no speakers of the language for six generations. She also teaches Wôpanâôt8âôk in Aquinnah and Mashpee. little doe received her Master of Science in Linguistics from MIT in 2000. She has written an introduction to the grammar of the language. jessie has created the first curriculum for teaching the language and is currently working with Professor Norvin Richards toward the completion of a dictionary that holds 11,000 words.
jessie is the current Director for 'Nuwôpanâôt8âm', a Master/Apprentice fluency project funded by the Administration for Native Americans. jessie little doe is a current National Science Foundation Documenting Endangered Languages Fellow and is a current 2010 MacArthur 'Genius' Award Fellow.
little doe served one term on the Mashpee Housing Authority as a commissioner and two terms on the Mashpee Wampanoag Indian Tribal Council Board of Directors. jessie has also served in an advisory capacity for past and current Wampanoag cultural projects for various organizations and film productions. She lectures for colleges and universities and advises tribal communities and governments in the area of language project policy and curriculum development. little doe recently completed a contact timeline history regarding contact between the Mashpee Wampanoag Tribe and Non-native settlers to the area. The timeline is used on the Mashpee Wampanoag Tribe's website. Her other passions include Wampanoag history and cooking.