2018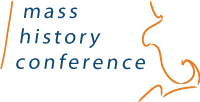 People's History ↔ Local History
Our history organizations face the task preserving and presenting "the" history of forever more rapidly changing communities and contexts. The 14th annual conference offers peer sessions, workshops, and networking opportunities to explore and learn about new ways and new communities in public history, and the roles historical organizations do and can play to become part of the social dialogue: program diversity, collaborative approaches to exhibit and program building, finding common grounds between technology, art, and history to enrich all, a broad focus on the community of communities — the process of people coming together in one place as they move from town to town and around the world.
2017
Igniting a Passion for History
The 13th annual Massachusetts History Conference featured the dual highlights of exploring how to ignite a passion for history among our public, as well as launching the Mass History Alliance, a new endeavor to support and advocate for all public history organizations and their work in Massachusetts. Public historians are responsible for igniting a passion for history and consciousness of the past, and fostering public dialogue. This conference showcasee the ways that public history organizations and institutions large and small inspire and engage audiences and constituencies.
2016
Putting History on the Map Together
At this, the twelfth annual Mass History Conference the day was filled with opportunities to meet, network, and collaborate with others in public history in the Commonwealth. Through various sessions, we consider how our shared efforts can be more successful in preservation, outreach, and education. We welcomed Steve Bromage of Maine Historical Society as our keynote speaker where he talked about his groundbreaking work in the field of public history. Robert Forrant of the University of Massachusetts, Lowell, led an inquiry into whether our state's public history organizations should organize for advocacy, funding, and professional development.
2015
Chew on This: Interpreting Food in Massachusetts History
At this, the eleventh annual Mass History Conference welcomed the many small historical organizations and practitioners preserving, interpreting, and deepening the exploration of Massachusetts history. This anniversary conference explored the meaning and availability of food in Massachusetts History: what we grow, what we eat, food and identity, scarcity and quality. We will once again present a program that is chock-full of excellent hands-on examples of, and workshops in, the best practices in public history. We enjoyed the keynote address by Filmmaker Ian Cheney, creator of The Search for General Tso and co-founder of Food Corps. (program)
2014
Never Done: Interpreting the History of Women at Work in Massachusetts
At this, the tenth annual Mass History Conference welcomed the many small historical organizations that preserve, interpret, and deepen the exploration of Massachusetts history. This anniversary conference is titled Never Done: Interpreting the History of Women at Work in Massachusetts and noted Harvard scholar Laurel Thatcher Ulrich will give the keynote. The stories of lesser-known women change-makers get lost in the larger narrative of industry, politics and conflict, but the timing is right for an examination of their tales of great and compelling variety, of lives lived with courage and determination. (program)
2013
"Listen my children and you shall hear": Balancing History and Myth in Massachusetts Public History
College of the Holy Cross, Worcester
Our ninth conference, produced a thought-provoking day examining myth in Massachusetts history. Ray Raphael, author of Constitutional Myths: What We Get Wrong and How to Get it Right, a companion volume to the earlier Founding Myths: Stories that Hide our Patriotic Past, explored "Why Myths Persist" in his keynote address. In sessions and round tables such as Massachusetts History beyond the Tea Party; Reinterpretation 101; Redefining Freedom on the Trail, and "It Never Happened Here": Iconic Myth as Burden we examined and presented organizations, programs and projects that have successfully harnessed myths, expanded their narratives, and redefined their mission without losing their identity. In practical sessions/workshops we explored "teaching the problem," and how to use this model for programming purposes in exciting ways that successfully challenge audiences. (program)
2012
Taking Center Stage: Conflict and Collaboration in the Peopling of Massachusetts with Wendy Lemente, Theatre Espresso, and Jessie Little Doe Baird.
College of the Holy Cross, Worcester
To mark the 100th anniversary of the "Bread and Roses" strike in Lawrence, known for a high level of collaboration between various groups of immigrants, the 2012 Massachusetts History Conference, explored im/migration history. The conference gave special attention to theatrical expression as a tool for historians. The process we call "peopling" signifies the successive waves of migrants who move into any particular place, and presumes an empty slate at the start, and a full State at the end. The "peopling" of Massachusetts referred to in the conference title likely started some 10,000 years ago, and is in full swing today. This messy process has involved successive "waves" of internal and external migrants, jostling and helping each other, vying for "center stage" in smaller or larger theaters. (program)
2011
Off the Record: Telling Lives of People Hidden in Plain Sight with Elise Lemire, Doris and Carl Kempner Distinguished Professor of Literature, Purchase College of the State University of New York, author of Black Walden: Slavery and Its Aftermath in Concord, Massachusetts (2009)
College of the Holy Cross, Worcester
Off the Record is a direct descendant of the 2010 conference Imagining Lives: Preserving and Interpreting Personal Stories, which took as its theme personal narrative in local history. "What about the people whose lives were not as readily reconstructed from written records in our collections?" we asked ourselves. How might we find out about people who did not write letters or own property, who, perhaps preferred (or were relegated to) anonymity and invisibility. What might we learn, and how might we introduce others to lives lived "off the record?" We feel we have assembled a superb conference for you (and for ourselves): delving into the challenges of finally addressing the history of slavery in Massachusetts some 200 years after it was abolished, and with that a slow redefinition of who might be the (past) residents and citizens of the towns and cities we serve; programming that serves the interest of our public to look behind the scenes of history, to join the chase for both that elusive extra fact and the larger understanding of how our predecessors lived in the places we live in. Were divisions between richer and poorer as rigid as they appear to be today? Were the people who are now "off the record" (in)visible to their neighbors? How did they see each other? Relate to each other? How do you interleave the "larger" story and the personal tidbit; create a compelling tour that brings to life that which isn't there?
2010
Imagining Lives: Preserving & Interpreting Personal Stories with Jane Kamensky, Harry S. Truman Professor of American Civilization, Brandeis University and Jill Lepore, David Woods Kemper '41 Professor of American History, Harvard University, authors of Blindspot (2008)
College of the Holy Cross, Worcester
Public history organizations increasingly use personal narrative to reach their audiences. Massachusetts personal history materials are held, in large part, in town and historical archives across the Commonwealth. Also, it is becoming increasingly clear that much of the personal history of at least the second half of the twentieth century will be gathered and preserved through interviews and oral histories. It seems extremely fitting to organize a conference around creating and using personal narrative in various and fruitful ways. With that this conference is taking on the issue of "translation": bringing academic history and professional methods to the public. Local historical organizations collect and own materials that form the backbone of personal history. Among them are archival resources such as letters, diaries, journals, oral histories, financial papers, photographs and negatives, birth and death records, local maps, and genealogical research. Houses, barns, tools, household items, clothing, personal items, and toys are among the main material culture objects owned by local historical organizations. Sessions will engage the personal narrative from all sorts of angles: preservation of the materials(including preserving, digitizing, transcribing, and editing oral history tapes); exhibiting lives in context; programming (lives, plays, impersonations, lectures, games); doing oral history (it appears this is the major way in which personal history of the 20th century will be recorded in the absence of letters and diaries); thematic or community story gathering; houses and their inhabitants/the "personal" narrative of a house. (program)
(Watch keynote address Heads or Tales? History and the Art of Story with Jane Kamensky and Jill Lepore
2009
With Power for All: Energy & Social Change in Massachusetts with Cathy Stanton, Anthropology Department, Tufts University
College of the Holy Cross, Worcester
The decision to focus this year's conference on energy and social change was prompted by the larger attention that the Commonwealth and nation are now giving to this important subject. As communities large and small contemplate biofuels, solar and wind energy, and a host of alternatives for the future, it is an appropriate moment to reflect on wind and water power, something else, and the many ways people and places secured energy in the past. (brochure)
Listen to three of the workshops:
Public History in a Postindustrial City with Cathy Stanton
Public Reaction to New Power Systems with Bernard Drew, Sharon Tracy and Phil Stone
Learning from the Past: Sustainable Life with Renewable Energy with Todd A. Burdick
2008
Sustaining the Future of Massachusetts History with Dennis Fiori, President, Massachusetts Historical Society
College of the Holy Cross, Worcester
The decision to focus this year's conference on various approaches to "sustainability" reflects the planning committee's sense that many historical institutions have a pressing need to work with new technologies, incorporate multi-lingualism into programs as they work both to sustain traditional audiences and to build new ones, reinterpret exhibits for new generations of visitors, gather and curate virtual collections, generate new visitorship, and attract new volunteers. (brochure)
2007
Collecting and Interpreting the 20th Century with Steven Lubar, Director, John Nicholas Brown Center for Public Humanities and Cultural Heritage, Brown University
Stonehill College, Easton
As the 20th century drew to a close, history organizations wanted to collect 20th century materials, but were often stymied by a lack of information about how to collect, preserve, store, and exhibit these materials. Through a series of sessions on what to collect and preserve, including the built environment, how to preserve late 20th century materials, and how to work with diverse audiences, attendees learned how to successfully preserve and interpret the recent past. (brochure)
2006
Outside the Textbook: Writing History for Everyone with Anita Diamant, author of The Red Tent (1997) and The Last Days of Dogtown (2005)
Clark University, Worcester
While historians often write for academic audiences, there is interest in history far beyond the academic realm. Outside the Textbook explored how those involved in public history can broaden their general appeal by using history writing in numerous formats, including books for children, exhibit labels, writing for commemorative celebrations, writing history for the web, and how to strike a balance between fact and invention in historical interpretation. (brochure)
2005
The Commonwealth Around Us: Interpreting Our Spaces and Places with Brian Donahue, Associate Professor of American Environmental Studies, Brandeis University
Doyle Conservation Center, Leominster
The landscape of Massachusetts has undergone remarkable historical change. The conference explored these changes, the natural and cultural forces that drove them, and how they are reflected in what we see around us today. Specific topics covered included "Preserving the Landscape with the Community Preservation Act," "Documenting the Changing Landscape", "Interpreting Public Spaces", and "Inside and Out: Interpreting Your Entire Site." (brochure)