People's History ↔ Local History
A Conference for Massachusetts History Organizations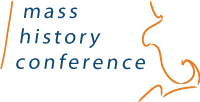 Monday, June 4, 2018
Hogan Campus Center, College of Holy Cross, Worcester
Our history organizations face the task preserving and presenting "the" history of forever more rapidly changing communities and contexts. The 14th annual conference offers peer sessions, workshops, and networking opportunities to explore and learn about new ways and new communities in public history, and the roles historical organizations do and can play to become part of the social dialogue: program diversity, collaborative approaches to exhibit and program building, finding common grounds between technology, art, and history to enrich all, a broad focus on the community of communities — the process of people coming together in one place as they move from town to town and around the world.
Hosted by the Mass History Alliance, an organization to support and advocate for all public history organizations and their work in Massachusetts.
Supported by Mass Humanities, Robert Forrant, Michael Potaski, University Products, New England Archivists, Massachusetts Historical Society, Freedom's Way National Heritage Area, University of Massachusetts Amherst Program in Public History, Massachusetts State Historical Records Advisory Board (MA SHRAB), University of Massachusetts Boston Public History and Archives Tracks and the Joseph P. Healey Library
Sponsored by Seed/Ed– Seed Education Consulting, Swift River Press—History/Communications by Pleun Bouricius
Keynote Speaker
Franklin Odo, John J. McCloy Visiting Professor of American Institutions and International Diplomacy, Amherst College. Read Franklin's bio.
Register

Registration Fees for Day-Long Conference

Fee includes workshop, morning refreshments, buffet lunch (vegetarian option available), and afternoon snack. Registrations cannot be refunded; however you may send another person in your place.

$90

Standard Fee per person

$60

Student Fee (include copy of student ID with registration or bring ID to event if registering online)

$80

Per person for 3 registrants from same organization at the same time

$70

Per person for 4 and 5 registrants from same organization at the same time

$35

Confirmed speaker

Program

8:30 AM-9:30 AM
Registration
8:30 AM-9:30 AM
Continental Breakfast & Networking
9:00-5:00 PM
Mass History Commons
9:30-9:45 AM
Welcome and Awards
9:45-10:45 AM
Keynote Address: Franklin Odo
10:45-11:00 AM
Break
11-12:15 PM
CONCURRENT SESSIONS
Open Meeting and Information Session of the Mass History Alliance
Audience-Centered Learning: Creative Approaches in History Museums
What is Storytelling and What is Oral History?
Collecting Underrepresented Communities
Disability History Panel
History and Art Intersect
12:15-1:30 PM
Lunch Buffet
1:30-2:15 PM
Peer-to-Peer Learning
2:15-2:30 PM
Break
2:30-3:45 PM
CONCURRENT SESSIONS
A Class Act: A Showcase of Community Preservation Act-Funded Projects
Lessons from Deaccessioning
Community Engagement Through Oral History
Selecting for Digitization:Legal and Ethical Considerations**
Self-Guided Tours: To App or Not to App?
3:45-4:00 PM
Break with refreshments
4:00-5:15 PM
CONCURRENT SESSIONS
Federal, State, and Local Government Funding for Small Historical Organizations
Collaboration is Key: The Benefits and Challenges of Creating Partnerships between Local History Organizations and Graduate Programs
Using the Commonwealth Historical Collaborative to Share your Collection Information Online for Free
4:00-5:15 PM
(registration required)
WORKSHOP: Personal Digital Archiving: Train the Trainer**
** Indicates sessions available to afternoon MA SHRAB registrants