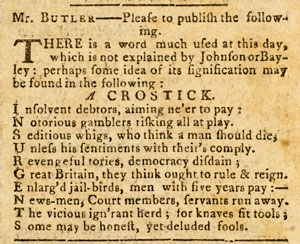 In October of 1859, John Brown organized a raid on Harper's Ferry Armory in hopes of sparking a slave rebellion. He was funded, in part, by Massachusetts citizens. Mass Humanities' Massachusetts History programming marked this 150th anniversary with programming that addressed the question of civic violence – violent action in support of an idea, however good or bad, and somehow related to the role of the citizen, the format of the civitas, and/or the social order.
Like Brown, citizens have taken up arms against other citizens, government institutions, and corporations. Conversely, cities, the Commonwealth, Federal Government, corporations, and citizen organizations have used arms against citizens, even if only to demonstrate might. Rebellion, strike, religious strife, political riot, all are forms of civic violence.
What is the difference between terrorism and revolution? When is it justified to rise up and take a stand? Does the end justify the means? Where does keeping law and order shade into state suppression? How culpable are we when we do nothing while violence happens in our name? Do we require a police presence to keep a civil society? If not, is something wrong? Together, we will watch a film and think about local historical events and our civic responsibilities.

An (Un)Civil Action: A Closer look at violence in Massachusetts history featured excerpts from John Brown's Holy War and a fresh look at local history in five towns around the Commonwealth.

Past events that mark the 150th anniversary of the raid on Harper's Ferry:
November 14, 2009
An (Un)Civil Action? Springfield and the Revolutionary Model of Armed Resistance, 1787-1859
Davis Auditorium, Museum of Fine Arts, 21 Edwards Street, Springfield
35 people joined us for a discussion of violence, arms, citizenship, and. The program featured excerpts from the documentary, John Brown's Holy War, and a special guided tour of the Springfield Armory with information about Daniel Shays armed attack on the U.S. arsenal in Springfield.

November 21, 2009
An (Un)Civil Action? Violent Politics in 1920's Worcester
Testa Science Center Auditorium, Assumption College, Worcester
35 people joined historian John McClymer for a discussion program of civic violence in American politics, also featuring excerpts from the documentary, "John Brown's Holy War" and discussion of Brown's choice for armed conflict.

February 27, 2010, 1 – 4 pm
An (Un)Civil Action?: Violent Conflict during the 1912 Bread and Roses Strike in Lawrence
Lawrence Heritage State Park, 1 Jackson Street, Lawrence, MA
65 people joined historians Robert Forrant and Jim Beauchesne for an introduction to the Great Strike of 1912 and a tour of selected locations. Then, viewed excerpts from the documentary film, John Brown's Holy War, followed by a discussion of Brown's choice for armed conflict. View photos of that event on Flickr. Click here for more details.
For more information on An (Un)Civil Action, email Pleun Bouricius or call (413) 584-8440.