HEAR US, by Sheila Levrant de Bretteville and Susan Sellers, is the centerpiece of the State House Women's Leadership Project.
The Massachusetts Foundation for the Humanities contracted with Urban Arts, Inc. to oversee the artist selection process. A committee of five arts professionals chose the proposal submitted by the team of Sheila de Bretteville and Susan Sellers.
deBretteville and Sellers called their piece HEAR US. It would "introduce viewers to the individual honorees as revealed in their words and images. It also presents the six women as a group linked by courage, perseverance, and commitment to active participation in public life." [Read their full statement.]
HEAR US was created over a period of a year. Completed in the fall of 1999, it was permanently installed in the State House, marking a major milestone in the effort to write women back into history.
The Artists Who Created HEAR US
Sheila Levrant de Bretteville is professor and graduate program director at the Yale University School of Art. One of her best known designs is "Biddy Mason: Time & Place," which uses images and text etched in stone and steel on the wall of an interior street in downtown Los Angeles to tell the story of an African-American midwife who lived at the site.
Sheila de Bretteville holds degrees from Barnard College and Yale University and has been awarded Honorary Doctorates from the Moore College of Art and California College of Arts and Crafts.
Susan Sellers is co-founder of the multi-disciplinary studio, 2×4, in New York City. The studio's clients include The New York Times, National Geographic, the Office for Metropolitan Architecture/AMO, Princeton School of Architecture, and many others. Sellers received a B.F.A. in graphic design from Rhode Island School of Design in 1989 and an M.A. in American Studies from Yale University. She has taught and lectured widely and her articles have appeared in a number of journals. She is a Critic in the Department of Graphic Design at Yale University School of Art.
The Artists' statement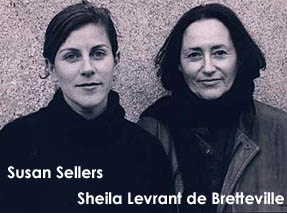 "HEAR US poses questions of similarity and difference. Our work introduces viewers to the individual honorees as revealed in their words and images. It also presents the six women as a group linked by courage, perseverance, and commitment to active participation in public life. We wanted people to 'hear' these women, women who were brave enough to speak and act publicly at a time when women were largely confined to the private sphere. We know that these six were not alone in seeking social change; others came before them, and many more followed. We can only hope that this will not be the last piece of artwork in the Massachusetts State House to recognize the contributions of women. "
Creating "HEAR US"