HEAR US is permanently installed in the oldest part of the Massachusetts State House, just outside of Doric Hall. A series of tall marble panels creates a "portrait gallery" of six remarkable women. In each panel sits a bronze bust of one of the honorees, based on period photographs; two quotations from her speeches or writing are etched on the marble. The wall behind the panels is covered with wallpaper composed of a repeating pattern of legislative documents relating to struggles these women waged.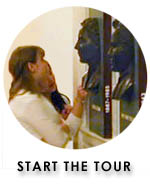 The artists' choice of bronze and marble links the new work to the statues and plaques that fill the halls of the State House. The use of type continues the tradition of commemorative plaques found throughout the building—but with an important difference: the words you read on these panels are the women's own. They come from pamphlets, speeches, articles, newspaper writings, autobiographies, and oral histories.
The panels are arranged chronologically, beginning with Dorothea Dix, who was born at the beginning of the 19th century, and ending with Florence Luscomb, who lived until almost the end of the 20th. Dix had no choice but to work behind the scenes of state government. Luscomb helped win the vote for women and went on to run for office herself.

Take the Tour
Florence Luscomb
I learned in school that the American government was founded on the principle that all men are created equal. But there was no equality for half of the human race – my half. Women were discriminated against not only in political freedom, but in their professional and work opportunities, in their pay, in many of their laws and social conditions and customs. And I burned with indignation at this injustice.
—Oral history, 1983
Florence Luscomb
 was among a small minority of women fortunate enough to attend college in the early 1900s, but even privileged women suffered discrimination. While studying architecture at MIT, she applied to 12 firms before she found one willing to take on a woman apprentice. Her commitment to suffrage intensified. She worked hard organizing rallies, trolley tours and street meetings in support of an unsuccessful campaign for a constitutional amendment that would give Massachusetts women the right to vote.
Mary Kenney O'Sullivan
I was convinced that the workers must organize. Someone must go from shop to shop and find out who the workers were that were willing to work for better working conditions. I must be that someone.
—Unpublished autobiography, 1936
When
Mary Kenny O'Sullivan
wrote her autobiography (never published) in the l930s, she vividly remembered what first moved her to become a labor organizer. By the time she was 19, she had learned every part of the printing trade women were allowed to do and been promoted to forewoman. Even as a skilled worker, she could never earn as much as a man. She experienced firsthand how badly women workers were treated–and how poorly they were paid–and saw that organizing was the only way to bring about change.
Josephine St. Pierre Ruffin
It is the women of America — black and white — who are to solve this race problem, and we do not ignore the duty of black women in the matter. They must arouse, educate and advance themselves. The white woman has a duty in the matter also. She must no longer consent to be passive. We call upon her to take her stand.
—The Woman's Era, 1894
Financed and edited by
Josephine Ruffin
, with help from her daughter Florida, the Woman's Era was published monthly between 1890 and 1897, a time of increasing racial segregation in the North as well as the South. The paper called for the expansion of woman's sphere and urged women of both races to fight for racial justice, first and foremost by working for national suffrage but also by standing up against increasingly restrictive Jim Crow laws.
Sarah Parker Remond
My strongest desire through life has been to be educated. I found the most exquisite pleasure in reading, and as we had no library, I read every book which came in my way, and I longed for more. Again and again mother would endeavor to have us placed in some private school, but being colored we were refused.
—"A Colored Lady Lecturer," 1861
Sarah Parker Remond
was living in London in 1861 when an English women's magazine published a series on the "Lives of Distinguished Women." The June issue featured "A Colored Lady Lecturer." In this brief autobiography, Sarah Remond described her love for learning and her bitterness about being deprived of an education simply because she was black.
Lucy Stone
In education, in marriage, in religion, in everything, disappointment is the lot of woman. It shall be the business of my life to deepen that disappointment in every woman's heart until she bows down to it no longer.
—Speech to National Woman's Rights convention, 1855
Two years after the woman's rights convention at Seneca Falls, NY,
Lucy Stone
helped organize the first national meeting, which met in Worcester in 1850. Throughout the l850s, woman's rights supporters from around the country gathered annually. In 1855 they held their convention in Cincinnati. When a heckler jeered that the whole movement was the work of "a few disappointed women," Lucy Stone delivered one of the greatest speeches of her long career. She spoke without notes to a standing-room-only crowd.
Dorothea Dix
I come to present the strong claims of suffering humanity. I come to place before the Legislature of Massachusetts the condition of the miserable, the desolate, the outcast. I come as the advocate of helpless, forgotten, insane men and women; of being sunk to a condition from which the unconcerned would start with real horror.
—Memorial to the Legislature of Massachusetts, 1843
When
Dorothea Dix
began her lifelong campaign to improve conditions for the mentally ill, she traveled throughout Massachusetts, personally visiting every jail and poorhouse in the state. 1843, she published the results in a Memorial to the Legislature of Massachusetts. With the help of influential men who shared her views, Dix used this graphic and powerful document to shame lawmakers into appropriating more money for the care of the insane. After her success in Massachusetts, she followed the same strategy in many other states.
Wallpaper
The wall behind the marble panels is covered with wallpaper created out of a repeating pattern of six government documents, each of which relates to a cause one or more of the six honorees fought for.
An Act for the removal of Insane Convicts from the State Prison (1844)
Passed in response to Dorothea Dix's campaign on behalf of the mentally ill, this law provided for moving convicts who "become deranged" out of state prisons and into the State Lunatic Hospital.
Report of the Committee on the Qualification of Voters (1853)
In June of 1853, Lucy Stone and her husband Henry Blackwell were among a group of men and women who petitioned the Massachusetts legislature meeting in constitutional convention to strike the word "male" from the state constitution, thereby giving women the right to vote. In this report, a legislative committee listed the arguments advanced by supporters of woman suffrage and explained that it was refusing to grant their request because it believed that "a vast proportion of the women of Massachusetts do consent to their political condition."
An Act Forbidding Unjust Discrimination on Account of Color Race (1865)
Sarah Parker Remond first came to public notice in l853 when she was ejected from a Boston theater because she refused to sit in a segregated gallery. She was handled roughly by a policeman, and successfully sued the theater's owners for damages. It wasn't until l865, two months after the end of the Civil War and 22 years after her brother Charles had led the fight to integrate seating on Massachusetts trains, that the legislature passed this law outlawing segregation in all public accommodations.
An Act to Give Women the Right to Vote for the Members of School Committees (1879)
For decades, supporters of woman suffrage, including Lucy Stone, Josephine Ruffin, Mary Kenney O'Sullivan and Florence Luscomb, worked without success to get a suffrage amendment to the Massachusetts constitution. Their only victory came in 1879 with the passage of this law giving them the right to vote in school board elections. However, because Lucy Stone refused to register as Lucy Blackwell, insisting "there is no law that requires a wife to take her husband's name," she was never allowed to exercise even this limited franchise.
An Act Relative to the Hours of Employment of Women and Minors (1912)
For years, Mary Kenney O'Sullivan and other trade unionists lobbied the Massachusetts legislature to limit the number of hours a week women and children under 18 could work in factories. In 1912, the fight for a 54-hour law passed was won; factory owners refused to raise hourly wages, which meant smaller pay checks for already struggling workers. In Lawrence, 30,000 textile workers -many of them women–staged a dramatic strike, which ended in victory after three months. Mary Kenney O'Sullivan was among their strongest supporters.
Interim Report of the Senate Commission to Investigate Communism in Massachusetts (1955)
In l946, Florence Luscomb wrote to FBI Director J. Edgar Hoover, "While I am not, and never have been a Communist, I have publicly defended the Constitutional right of any American to hold any political and economic views his conscience dictates." In 1955, Luscomb was called before the Senate Commission to Investigate Communism in Massachusetts. She answered questions about her background but refused to confirm or deny her membership in a long list of organizations. "I will not answer compulsory questions by government inquisitors into matters of my conscience and opinions… I have nothing to hide… But I cannot and will not tear up the Constitution and its guaranteed liberties, won with blood and tears. I cannot and will not be a party with you in destroying American democracy."
Plaque