You are here:
Home
>
Public Humanist
Tag Archives | Public Humanist
published on November 11, 2015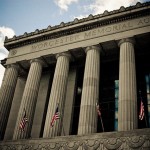 Historian Kristina Reardon weighs in on remembrance and public support for American war memorials.
Read More...
published on November 10, 2008
Veterans Day parades, ceremonies and speeches are the traditional ways we honor the service and sacrifice of our veterans. Without editorializing about such traditions, I want to suggest an additional means of observing November 11. Seek out a family member, neighbor or colleague who served in the military and engage that person in a conversation about his (or her) military experience. Ask a question or two. Listen. Ask another question.
Read More...