You are here:
Home
>
The Public Humanist

Our blog publishes the voices of many contributors who use the humanities to explore our world. Reader commentary is encouraged. Consider contributing – complete form. Editor Tim Binkert.

published on May 30, 2007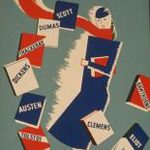 I will always love Ralph Nader for publicly validating English majors. I joined the Green party soon after his speech at the First Churches in Northampton in the summer before the fateful 2000 presidential election. He said a lot of things that were sensible, clear, and truthful tome, but he really got me on my feet when he invited all the English majors inthe room to stand up.
Read More...