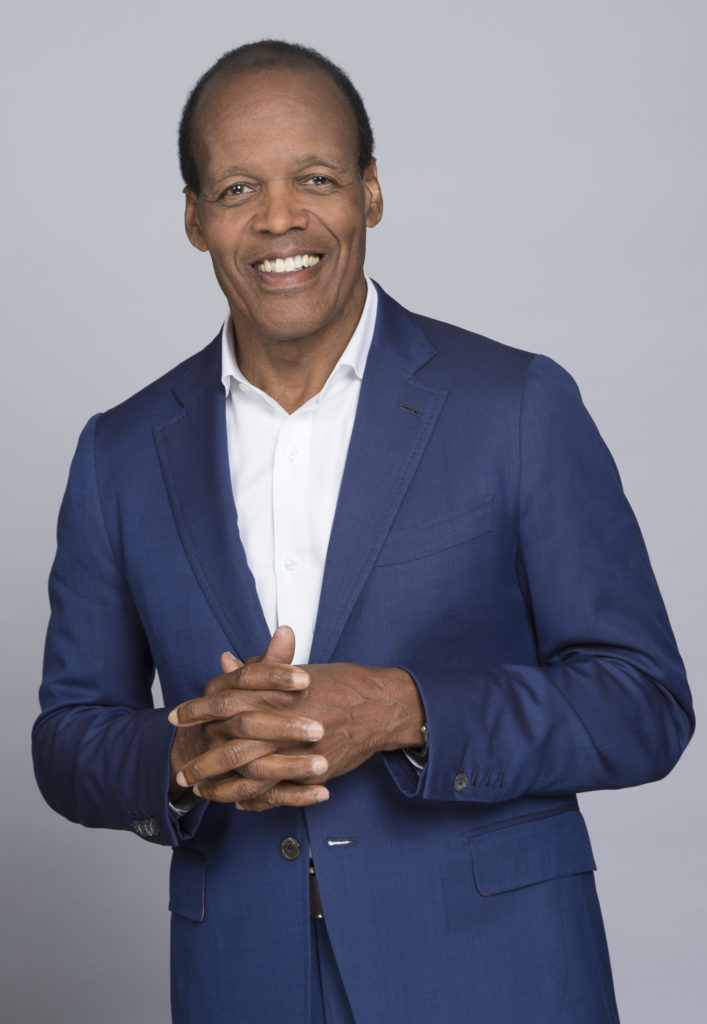 Dr. M. Lee Pelton was born into a working-class family in Wichita, Kansas. His paternal great grandparents made a meager living as farmers near Little Rock, Arkansas where civil rights battles over the soul and dignity of our country were waged. Lee's maternal ancestors were Cherokee Native Americans living off the land in north central Oklahoma and his ancestors were what the Historian Nell Painter, called, Exodusters – African Americans moving from the agrarian South to Kansas and Nebraska.
He attended Wichita State University – a stone's throw from his childhood home – before leaving Kansas to earn a PhD in 19th century English and American Literature and Languages at Harvard. He taught English and American literature at Harvard and served as what is now called a residential dean of Winthrop House. Later, Lee served on the Harvard Board of Overseers and as a vice-chair of its executive committee. After Harvard, he served as dean of the college at Colgate University and Dartmouth College before serving for 13 years as the president of Willamette University in Salem, Oregon. Lee became president of Emerson College on July 1, 2011.
There were very few books in Lee's house growing up except the Bible, whose rich poetic cadences and tropes invigorated and inspired him. He was captivated by the Biblical exegetical exercises of Sunday sermons that sought to make meaning out Biblical stories and connect Old Testament and New Testament symbols and meanings. He didn't know it then, but this was the foundation for Lee's abiding love of poetry, critical analysis and, eventually, his graduate school work. The classroom was a magical place where ideas – new and old – came alive. Lee always reminded his students that literature and the humanities were as relevant to understanding the meaning and purpose of the living world as biology or other branches of science. He continued to teach a wide range of literature courses, even when he became a full-time administrator.
Lee felt a calling to academic leadership at an early stage in his career.
Lee often points to Jim Freedman, a cherished friend and one-time president of Dartmouth College as an affirming voice on the value of liberal learning and the humanities:
The public self that we all show to the world is, obviously, important. An engagement in public life, an engagement in one's profession and all those things are, obviously, important. But what I hope a liberal education does is to make you ask questions about yourself. What is it that makes me happy? What makes me a good person? What would make me a better person? Why is it so difficult to come to grips with unhappiness and sadness? Why is life so unfair to some people? Those are the questions that a liberal arts education, that great literature, great essays, help you ask yourself. And I think they make you a wiser person because of that.
Lee believes that the best education is deeply rooted in and connected to human experience and human endeavor.
Lee Pelton is president of Emerson College and an internationally known speaker and writer on the value of liberal education and leadership development, civic engagement, and diversity and inclusion. Pelton served as dean of the college at Colgate University and Dartmouth College, and was president of Willamette University in Salem, Oregon for 13 years. He serves on the board of directors of the Boston Chamber of Commerce, WGBH, MIT Press, Harvard Graduate School Alumni Council, Boston Arts Academy Foundation, Facing History and Ourselves, and the Barr Foundation.
Recently, he was recognized by the Boston Chamber of Commerce as 2020 Distinguished Bostonian and was asked by Boston Mayor Marty Walsh to lead the Boston Racial Equity Fund. He has been recognized for his civic engagement with several awards, including 50 Most Powerful Leaders in Boston (Boston Business Journal), One of The 100 Most Influential People in Boston, The 21 Most Powerful People in Boston Business, 75 Bold Thinkers Who Are Shaping Our City and the World (Boston Magazine) and Boston's 100 Most Influential People of Color (Get Konnected!).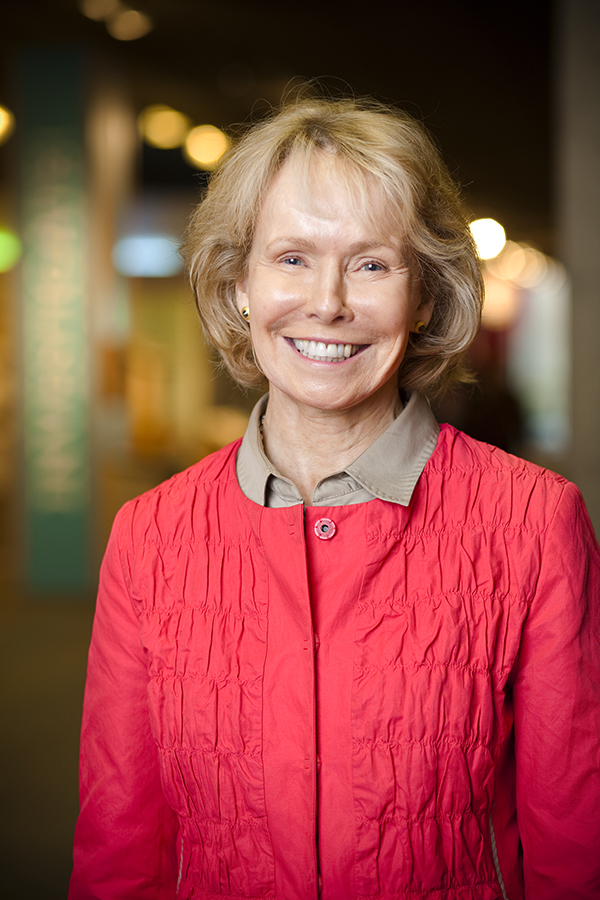 Fredi was born and raised in Jamaica Plain. She attended Boston Public Schools in her early years and went on to graduate from high school and college at two institutions that have since closed.
Neither of her parents had university degrees but they strongly encouraged all of their children to pursue higher education. Fredi and her four siblings all went on to graduate from college, law school, business school and doctoral studies.
Fredi's natural leadership skills flourished in college when she served on the school's board. From early on, she has championed opportunities for women, a cause for which she still cares deeply.
She joined the board of the Crittendon Society and as her four children came along, she joined the boards of her their schools. She has mentored young people in both her professional life and as a volunteer for countless organizations.
After marrying her husband, Howard, Fredi began her philanthropic career in earnest.
In 1994, she was the founding board chair of Summer Search Boston and on its National Board. The goal of the program is to give students hope and confidence through challenging summer programs and on-going mentoring. For over 26 years, Summer Search Boston has served over three thousand low income students- ninety eight percent of whom graduate from high school. In order to assure continuity of this wonderful program, Fredi decided that after twenty years, leadership had to transition to the next generation and she left the board.
While working with Summer Search, Fredi also had the opportunity to work with Hestia on its executive committee. This organization is run by women who channel philanthropic resources to improve educational outcomes in Boston and the surrounding area. Additionally, her passion for education led her to become deeply involved with the educational program at the Boston Museum of Science, "The museum has developed a marvelous program in inspiring elementary and junior high school interest and competency in engineering and technological innovation."
Fredi's commitment to educational causes has kept her very busy. She served on the board and then chaired the board at WBUR. She also had the opportunity to serve on the NPR Foundation board. In Cambridge, she served on the board of the Cambridge Center of Education and Families First. She is also a member of the Women's Leadership Board at the Harvard Kennedy School.
Ten years ago, she joined the Smithsonian National Board. The aim is to further the interest and basic research in history, science and technology. She has the privilege of working with the Smithsonian Science Education Center where she served as Chair for the past three years. She was recently nominated for the role of vice chair of the National Board and to continue on the Board of the Science Education Center.
Most recently, Fredi and her husband have become deeply involved with UpStream USA, which launched a unique program to prevent unwanted pregnancies through education about long-acting, reversible contraception. UpStream is operating in five states including Massachusetts. In Delaware, where the program was launched, records show that unplanned births are down by twenty five percent and abortions have been reduced by thirty seven percent due to the organization's efforts.
Fredi's humility is matched only by her generosity.
"Championing education and my work with numerous nonprofits are the major highlights of my life. I believe in community. Community requires understanding of where we come from, where we are and where we might go. Art, theater, history, music, and literature are all part of our understanding of others and of humanity. My philanthropic endeavors have given me great pleasure throughout my life that is only rivaled by the pleasure I get from being with my family. Between Howard and me we have seven children and twelve grandchildren with 7 college degrees and 9 master's degrees between them."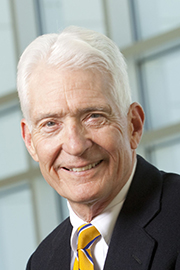 You may be surprised to know that Al Griggs—a decorated Marine, respected businessman, philanthropist, former Mass Humanities board member, 2020 recipient of a Massachusetts Governor's Award in the Humanities, and at the time, vice president of his class—never graduated from high school because he failed a US History course. But since then, he has gone on to achieve remarkable success in the business world, his volunteer endeavors, his ceaseless pursuit of knowledge, and his passion for building respect and inclusion within organizations of all types and sizes.
Al moved to the Northampton area in the mid-1950s with his parents and four siblings when his father acquired a Coca-Cola bottling franchise in Western Massachusetts. Al was attending high school at Philips Andover Academy, where his natural leadership skills blossomed and he served as class president for 2 years.
"Andover's school motto is Non Sibi, which is Latin for 'Not for Self'. I learned from a very young age that it is important to work for the common good. This ethos is reflected in every aspect of my life to some extent."
Despite failing to graduate—an acute disappointment for which he blames only himself—Al was a smart and capable young man. The headmaster encouraged him to join the US Navy, where Al's commanding officer suggested that he apply to the US Naval Academy from the enlisted ranks. He got in and served as the VP of his class for 3 years. When Al graduated, he was commissioned a 2nd Lieutenant in the US Marine Corps where he flew fighter jets for 5 years. One of his most memorable experiences during that time is hauntingly relevant to the current moment:
"I was living in Meridian, Mississippi, during flight training when three civil rights activists, James Chaney, Andrew Goodman and Michael Schwerner, were abducted and murdered in the area. The head of the FBI investigation lived in my house while they searched for their killers. Flight school was suspended and we were ordered to help search for the bodies. At one point, someone burned a cross on our lawn because the locals were angry that we were helping the FBI."
During the Vietnam War, Al flew over 100 missions in support of Marine ground troops, which earned him 7 air medals. He was awarded the Distinguished Flying Cross for putting his fellow Marines' lives before his own.
After he came home from the war, at his father's encouragement, Al attended Harvard Business School and then joined the family business.
"At Harvard, there was a lot of anti-Vietnam War sentiment, but most of the other students were simply interested to hear about my experiences over there. The most meaningful course I took while at Harvard was Human Behavior in Organizations taught by Tony Athos. It was enlightening and it really changed my perception of management and the importance of treating everyone in your company, from the person making the least pay to the CEO, with respect. I have carried this philosophy with me throughout my life as a business person."
Al met his wife, Sally, while at the Business School and they moved to the Pioneer Valley in 1970. From that time until 1992 when he sold the business, Al owned and acquired several Coke bottling franchises in Western Mass, Upstate New York, Southern Vermont and New Hampshire. Al was Chairman of the National Soft Drink Association for 2 years and worked with Senator Ted Kennedy and his staff to ensure access to safe non-sugar sweeteners in soft drinks.
After retiring, Al shifted his attention to enhancing the lives of people in the Pioneer Valley through philanthropy. Al became chairman of the Tuition Management Systems (TMS) board, which helps individuals and families reduce the student loan debt burden. This experience opened his eyes to the disparities of access to higher education. It is also why he has been such a huge champion of the Clemente Course over the years, which Mass Humanities runs in partnership with Martin Luther King Jr. Family Services and UMass Amherst in Springfield. Another of Al's achievements was as a co-founder of the Valley Gives program, which spotlighted the numerous nonprofits in the Pioneer Valley, helped small organizations enhance their fundraising capabilities in the digital age, and channeled millions of new dollars to the region's nonprofits.
His accolades and titles are numerous. During his nearly 30 years of community service, Al has been awarded the Paul Harris award from the Northampton Rotary Club, named Chair of the Community Foundation of Western, MA, Chair of the Northampton YMCA, Chair of the Cooley Dickinson Hospital Board of Trustees, Chair of the Economic Development Council of Western Massachusetts, Chair of the Board of Williston Northampton School, Board Member of the Beveridge Family Foundation and Chair of the Dartmouth-Hitchcock Health Board where he oversaw a $250 capital campaign for the hospital. Dartmouth- Hitchcock even named an award in his honor- the Griggs Ambassador Award, which is given each year to someone who has "made a commitment to be a part of Dartmouth-Hitchcock's global health solution by promoting wellness at every level of their community". He also served on several committees at Edwards Church in Northampton, where he has been a congregant for over 60 years. He is the current chair of Community Involved in Sustaining Agriculture (CISA).
One of Al's proudest accomplishments, however, was joining the Mass Humanities Board in 2014 and helping to increase the foundation's visibility in Western MA.
"When I joined the Mass Humanities Board in 2014, I became interested in reading things other than non-fiction and I loved being exposed to things like philosophy and literature that I had very little experience with in my prior life. The Humanities have given me a lens to view the world in a different way as it relates to the pandemic and the issues of racism facing our country. We are living in challenging times and I am thankful that Mass Humanities is doing such important work to help support organizations and individuals as we grapple with the fallout of COVID-19."
Al lives in Northampton, MA and Sunapee, New Hampshire with his wife, Sally. They have two children together and Al has two children from a previous marriage.
Marginalized communities, and the wealth of culture, knowledge, critical perspectives and civic potential within them, are at greatest risk during the COVID-19 crisis.
Through funding from the Massachusetts Cultural Council, Mass Humanities will provide operating support grants to organizations that primarily serve the most marginalized people in our society, engaging them with the humanities in ways such as exploring their culture or values, sharing and connecting their stories, having conversations about the big questions facing our world, or learning English and the knowledge they need to become citizens.
Grants are available to organizations that do this work and have operating expenses below $3 million. Applicants need not define themselves as humanities organizations in order to apply.
Have questions about 2020 Support Grants?  View the Powerpoint and  recording of our online tutorial on filling out the application and registering in our online system, with Q&A with the audience, held on Aug. 3, 2020.
Timeline
Applications open on July 22 and close August 10, 2020, at midnight. If power outages resulting from the recent storm have affected your ability to complete the 2020 Support Grant application by the Aug. 10 deadline, please email us at grants@masshumanities.org and we will work out a solution.
Notification will begin on Sept. 15. Funds must be spent by June 15, 2021, and a final report is due on Sept. 1, 2021.
Funding
Applicants should request grants of $5,000. Actual grant amounts may vary and will be determined by the money available and the number of organizations recommended for funding. Funding for this grant is competitive but all recommended organizations will receive the same amount of funding.
Questions? Click here to email our grants staff.
The life and works of Frederick Douglass continue to shape our understanding of America.
A gifted orator and prescient writer, Douglass forces us to reckon with the legacy of slavery and the promises of democracy. We have gathered resources and upcoming online events dedicated to Douglass and we at Mass Humanities encourage you to share it with your community.
Interested in hosting a virtual reading this year? Click here for our tips.
Need versions of the speech in English, Spanish or Haitian Kreyol? Click here.
Leading a discussion? Click here for our discussion guide.
Did Frederick Douglass visit your town? Douglass began his life's work in Massachusetts, telling his story to communities large and small. From 1839-1845 he was on the road almost every day. See if he came to your town. There's a good chance he did! Click here to find out.
Massachusetts freedom seekers Douglass often spoke to largely white audiences, but he was part of a vibrant Black community in Massachusetts. Visit the house where a young Douglass found freedom in 1838, and where, today, documents and artifacts evoke the community of Black freedom seekers in Massachusetts. Click here to learn more.
Douglass on the Freedmen's Memorial The Boston Arts Commission recently decided to remove the Emancipation Memorial in the city's Park Square, a replica of the statue erected in Washington, D.C., depicting Abraham Lincoln standing above a kneeling Black man. Frederick Douglass delivered the keynote speech at the unveiling original statue on April 14, 1876. As he did in his speech on the 4th of July, Douglass asked listeners to look through the eyes of enslaved people seeking freedom:
"Despite the mist and haze that surrounded him; despite the tumult, the hurry, and confusion of the hour, we were able to take a comprehensive view of Abraham Lincoln, and to make reasonable allowance for the circumstances of his position. We saw him, measured him, and estimated him.."
Read the full speech here.
Mass Humanities supports readings of "What to the Slave is the Fourth of July?" across the Commonwealth.
Visit our Calendar page to find a reading in your neighborhood.
Readings in 2020 include:
Boston
The partners that host annual reading on Boston Common, Charles Hamilton Houston Institute for Race and Justice, Community Change Inc., Museum of African American History Boston, and Mass Humanities, will host a living virtual event on July 2 at 12pm. Click here for more details.
Brockton
Frederick Douglass Neighborhood Association, Podcast and video available July 4. Click here for more details.
Somerville
Somerville Museum, Virtual event on July 2. Click here for more details.
Concord
Robbins House, Video event on July 4. Click here for more details.

Egleston Square, Boston
Egleston Square Main Street, Eglsteon Square Peace Garden, July 11 at 2pm.

Plainfield
Plainfield Reads, Live virtual reading and backyard conversations on July 4.
Newburyport
Historical Society of Old Newbury, Live virtual reading on July 5.
East Falmouth
Cape Cod Cape Verdean Museum and Cultural Center, Event on July 10.
Oak Bluff, Martha's Vineyard
Renaissance House, Video broadcast TBA.
Lynn
New Lynn Coalition, Video Broadcast July 3rd at 6pm on Lynn Community Television. Click here for more details.
Worcester
Music Mania TV, Live Broadcast, July 1, 2-4pm on Worcester Community Cable Access TV.
More organizations can join through a special $500 sponsorship opportunity offered by Mass Humanities for readings through August 15th or until funds run out. Email kstevens@masshumanities.org to learn more
It's a familiar refrain when it comes to teaching Black history that holidays and heroes are not enough. Black History Month and a few of Martin's iconic words and images of Rosa is not a comprehensive history. Unfortunately, these approaches are commonplace, making tacked on and Pollyanna efforts the norm in many social studies classrooms.
Much more curricular inclusion, pedagogical relevance, and cultural and policy overhauls have always been needed to transform schools from institutions that, in their own subtle and overt ways, shape and reinforce the inequities of American society.
 As protests against racism and racial injustice unfold today, the social imperative to reimagine schooling and enact substantial and lasting reforms are not new but they are acutely pronounced. Addressing structural racism in America is accomplished through institutional change in policing and incarceration but, also, education.
George Floyd died at the hands of a Minneapolis police officer who pinned Floyd's neck to the ground for over eight minutes while he cried out that he could not breathe. Bystanders pleaded with the officer while cameras rolled. This moment, one that did not have to be Floyd's last, catalyzed global protests against racial injustice. It is also a reminder of the urgency of turning theory into action when it comes to making schools much more welcoming, responsive, and designed to meet the needs of all students, particularly Black students and those who are underrepresented in curriculum and undervalued in classrooms.
Talk of multicultural education, culturally relevant pedagogy, or critical race theory is only as powerful as the action in engenders. This moment of anguish and grief begot collective action in the streets. It must also redouble the efforts of educators to teach with a social conscience and educate for a critical consciousness.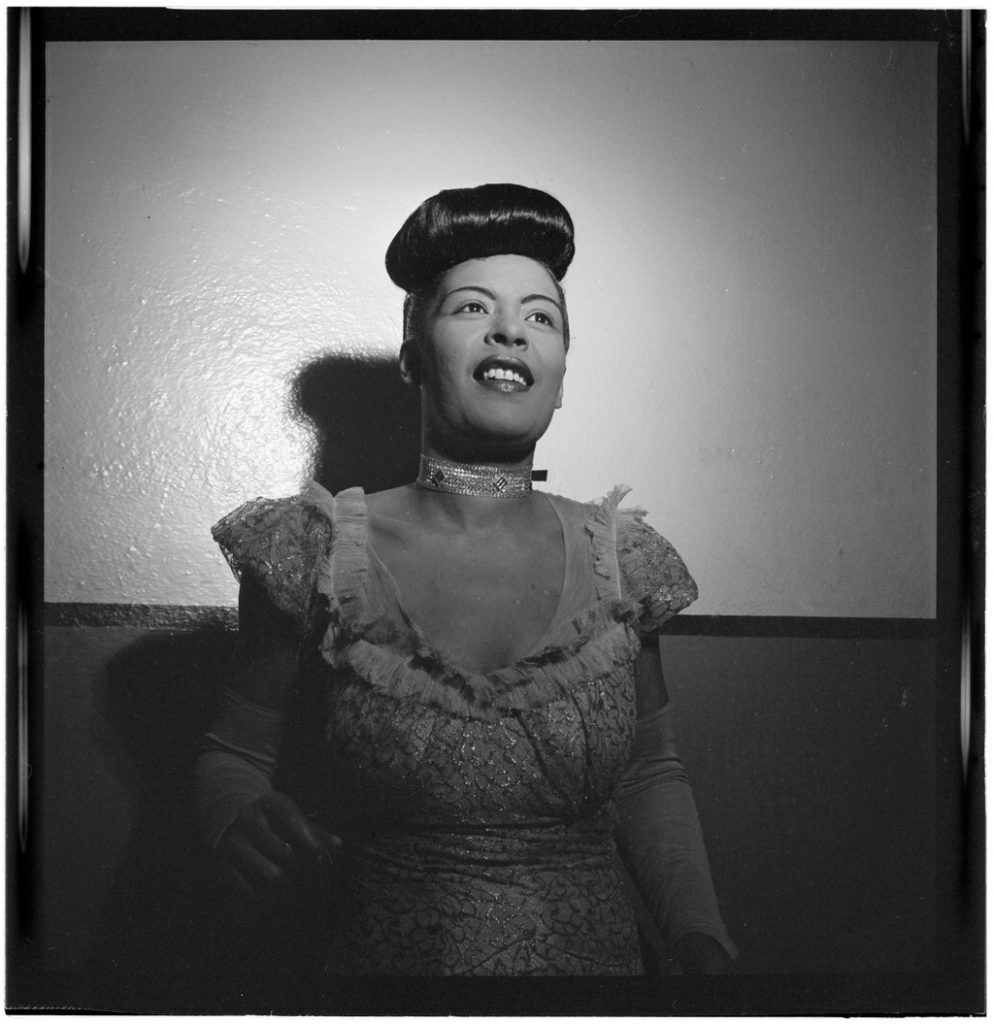 When thinking about the messages that students receive in schools, we have to remain vigilant of the role this institution plays in shaping collective memory and forming identities. It is a place where society can conceal, forget, and diminish as much as it can reveal, remember, and value. Schools are social crucibles, yet what is actually forged when Black history is under-appreciated and the dominant narratives of American history are uninterrogated? What narratives are we privileging as educators? What narratives are we silencing? What can we do to change this today, tomorrow, and in a sustained way moving forward?
It is the responsibility of every educator to confront curriculum with critical eyes. It is no secret that there are dominant narratives in social studies classrooms that are overly romantic, exclusionary, and acritical. It is well-established that there is a hidden curriculum in schools, elevating certain voices and perspectives while displacing others.
Schools send implicit messages about who is accomplished, successful, intelligent, and has worth. They also send messages about who is inferior and less noteworthy in their contributions to the saga of human history. Black history, for too long, has been elided in schools. Black people have been usurped of their stories and value in this space which is so fundamental to the shaping of minds, attitudes, and perceptions.
Yet, even with this common knowledge, the content and culture of schools still favors versions of U.S. and world history that are ethnocentric, Eurocentric, and in need of decolonizing. If historical knowledge is a constructed and contested space, all educators need to own the tension between knowledge and power that is too often underappreciated. History is never neutral. Knowledge is rarely objective. Stories of progress, American exceptionalism, and frameworks that portray this country as a shining city upon a hill continue to bury and marginalize accounts of suffering and persecution, let alone the multiplicity of peoples who have come to inhabit this country.
Teachers can disrupt this type of education. The words a teacher uses and the content they feature all go towards reinforcing or dismantling a status quo in schools and society. The unfortunate reality that school works for some students but often at the expense of others who are deserving of so much more can be addressed in classrooms even as structural changes are taken up by administrators, school boards, and the community.
Black history is American history. They are not separate and cannot be disentangled. One cannot be an entire course of study and the other something relegated to the periphery. Under-told narratives must be elevated and given the attention that is long overdue.
As the world processes yet another video of the untimely death of a Black person in the United States, we are tempted to focus on the history of Black victimization in schools. There is a need to have a reckoning with this history. A brave and honest telling of U.S. history cannot exist if this persecution and oppression is sanitized from classrooms. Enslavement, segregation, lynching, disenfranchisement, criminalization, mass incarceration, and structural racism all need to be introduced in social studies classrooms. But, this is not enough.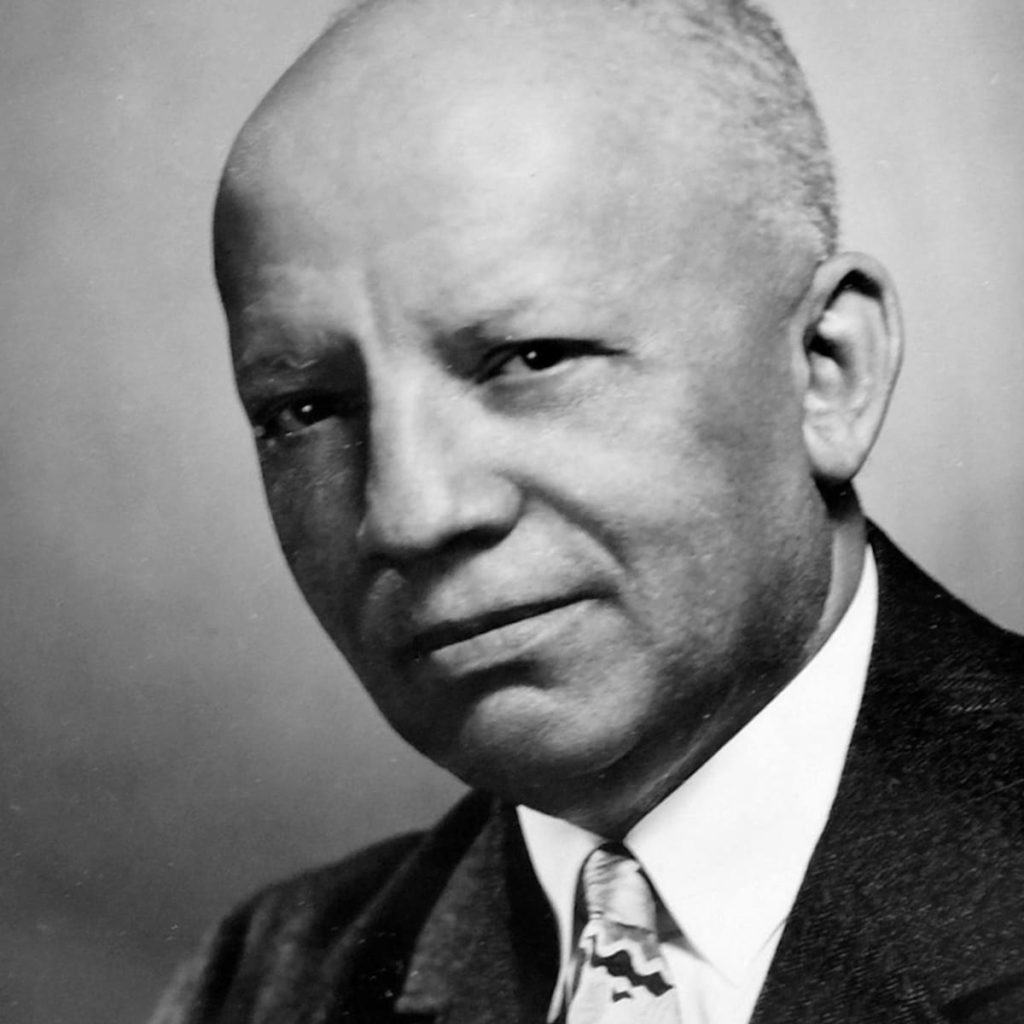 Black history, also known as an inclusive and more fully developed American history, cannot portray Black people only as victims. This would be its own disservice to the members of this community, past and present, and all students who receive this education. Black people have always been and continue to be dynamic and pluralistic, never experiencing a monolithic experience. Even during the long centuries of abuse, agency and voice have remained staples of the community and its experiences. For example, the teaching of lynching is incomplete without introducing the anti-lynching journalism and activism of Ida B. Wells or Mamie Till's decision to publish the images of her son, Emmett, at his funeral after his lynching. It is incomplete without the haunting beauty of Billie Holiday's "Strange Fruit" or Nina Simone's "Mississippi, Goddam." Without knowing about the establishment of the NAACP and the writings of Carter G. Woodson, Black history becomes the story of people acted upon yet who have no ability to act themselves. This is a brief and woefully incomplete list of individuals who embody the political, artistic, and cultural contributions of Black people to the fabric of society in the United States. More is needed. It was needed yesterday. It will be needed tomorrow.
Teaching Black history could never afford to be absent in schools or presented as an incomplete footnote. Educators can work to continually expand its presence in classrooms and at the same time avoid the poles of one-dimensional victimization and glib cultural celebrations.            
Black history is complicated, nuanced, and full of sorrow and accomplishment. Students in the United States deserve to see the full range of experiences and humanity found within Black history. Black people deserve to see their meaningful, lasting, and long neglected historical contributions honored.
Credit must be given. Attention is deserved. Social change and justice require dedication and commitment. The problem of ending structural racism and racial injustice will not happen in schools alone but the narratives found in classrooms and the ways Black people are represented within them can go a long way towards building empathy, humanizing the other, and promoting a more compassionate and pluralistic society.
Daniel Osborn, Ed.D. is a program director at Primary Source, an education nonprofit committed to promoting multicultural, global, and culturally relevant approaches to teaching and learning. He is the author of Representing the Middle East and Africa in Social Studies Education: Teacher Discourse and Otherness. 
Clemente grads in Dorchester, New Bedford, Springfield, and Worcester study writing and media literacy.
Across the nation, residents have found ways to respond to challenges facing their communities, taking to the streets and making their voices heard through social and traditional media. A new initiative from Mass Humanities seeks to respond by offering courses in media literacy and op-ed writing for graduates of the Clemente Course in the Humanities, a program that serves adults in traditionally marginalized neighborhoods. The "Writing Our Democracy: Media Literacy, Local Voices, and the Shaping of Public Opinion" courses begin this month in four cities in Massachusetts. 
The project is made possible by a grant to Mass Humanities from the Mellon Foundation and the Federation of State Humanities Councils through the "Democracy and the Informed Citizen" initiative, which supports humanities councils around the country. Mass Humanities developed the syllabus for "Writing Our Democracy" with a committee of local journalists and Clemente faculty.
The project seeks to deepen public understanding of the historical and philosophical foundations of a free press; create opportunities for local journalists to engage directly with community members to address issues of concern; and build media literacy and skills in neighborhoods often excluded from public view.
This marks the third time that Mass Humanities has received funding through the "Democracy and the Informed Citizen" initiative since 2013.
On June 16 Mass Humanities announced the awarding of $572,500 to 123 humanities organizations across Massachusetts through funding received by the Coronavirus Aid, Relief, and Economic Security (CARES) Act. The grants are made possible by the National Endowment for the Humanities. (NEH) received $75 million from the $2 trillion CARES Act legislation passed by Congress and signed by President Trump in March 2020.
"The humanities—our history, culture, and ideas—will be essential in any recovery from the COVID-19 pandemic in Massachusetts," said Brian Boyles, Executive Director of Mass Humanities. "We're grateful to NEH for providing these funds to protect the humanities infrastructure of the state. We only regret that we could not meet the needs of every applicant. We will continue to seek ways to assist our grantees and other institutions in surviving this crisis."
In a recent survey by the Massachusetts Cultural Council (MCC), cultural organizations reported more than $260 million in lost revenue and thousands of jobs impacted as a result of the pandemic. Due to lost admission and cancelled fundraisers, many organizations have laid off or furloughed staff. The economic fallout continues to threaten the survival of institutions of all sizes.
As the state affiliate of NEH, this type of funding enabled Mass Humanities to grant unrestricted operating support for museums, libraries, archives and other nonprofit organizations across Massachusetts.
About the CARES Act Grants
Through a funding opportunity made possible by the CARES Act, Mass Humanities offered grants to support operating expenses at museums, libraries, archives and other nonprofit organizations across Massachusetts impacted by COVID-19.
Mass Humanities awarded grants ranging from $2,500 to $10,000. Eligible organizations were evaluated on audiences served, budget size, the centrality of the humanities to their mission, and financial losses incurred by COVID-19. Priority was given to geographic diversity and organizations with annual budgets of less than $300,000. 
Mass Humanities began accepting applications on May 4, 2020. A committee of the Mass Humanities board of directors approved the grants.
Questions?
Email us and our program officers will respond.
Additional resources from NEH
NEH is also accepting applications from organizations seeking support for at-risk humanities positions and projects that have been impacted by the coronavirus. Eligible organizations can apply to NEH for up to $300,000.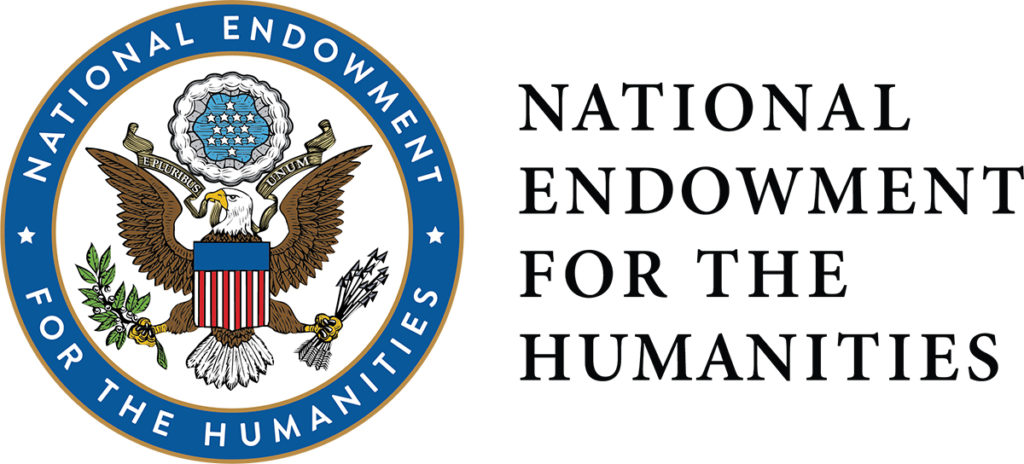 Ta-Nehisi Coates begins his book, In Between the World and Me, with his adolescent son's reaction to the announcement that the policeman who killed Michael Brown in Ferguson, Missouri, would not be indicted. Coates describes finding him crying in his bedroom. My own son was just two years old when I read the book, but already I knew the feeling of comforting an inconsolable child. This is a basic part of being a parent. The situation Coates faced, however, was one I will never experience.
"I did not tell you that it would be okay, because I have never believed it would be okay." Now, Coates writes, his son must know the truth about law enforcement and African American bodies. He must understand that he can be destroyed.
"It does not matter if the destruction is the result of an unfortunate overreaction. It does not matter if it originates in a misunderstanding. It does not matter if the destruction springs from a foolish policy."
These are cold facts, delivered with love but directly, as simple and horrific as the ever expanding list of names. Eric Garner. Tamir Rice. Renisha McBridge. Marlene Pinnock. Alton Sterling. And now George Floyd. "The destroyers," Coates tells his son, "will rarely be held accountable. Mostly they will receive pensions." Sons, mothers, fathers, cousins. Gone.
I do not send my son into the world afraid that he will be killed because of the color of his skin. He is not perceived as a threat by those charged with public safety. If he were, if that was a condition of his life over which I had no control, I believe I would go mad trying to protect him. If he were but the latest member of my family to be marked at birth as a danger, if all around him he experienced the results of harmful policies and sanctioned destruction, I'm not sure how I would console him. As a white man, I don't have the talk with my son that Coates has with his, the conversations African Americans must have every generation.
Instead, I get to choose. I choose to describe the world in terms that I hope will make my son tolerant, curious, and understanding of others, but I don't consider how to reduce his chances of being shot. I get to choose. That is the definition of privilege: choice.
Today, it seems to me the only choice is how best to serve as an ally to those to whom this nation grants no choice when it comes to the safety of their children. How will I address, in my daily work, in my interactions with my neighbors, and in my conversations with my children, the systemic issues that lead to a police officer using lethal force on an incapacitated black man?
This is a sorrowful time. The COVID-19 pandemic has stolen the lives of more than 6,000 Massachusetts residents, with people of color disproportionately represented in that number. We must make space to mourn them, just as we must mourn George Floyd, mourn Breonna Taylor, and mourn Ahmaud Arbery. I hope to channel my anger and sadness into work that matters.
This month Mass Humanities launches "Democracy and the Informed Citizen," a series of writing and media literacy courses for graduates of our Clemente Course in the Humanities in Dorchester, New Bedford, Springfield and Worcester. This month we call for grant applications for communities interested in reading Frederick Douglass's "What to the Slave is the Fourth of July?" speech. This work gives me hope, it is the work I've chosen, but I know it is not enough.
In the coming weeks, I'll continue to seek out the wisdom of people from the communities impacted by these tragedies, to hear how we at Mass Humanities can do more.
I believe in the humanities because I believe in human beings, in our ability to share in the human story, to learn from one another and our ancestors, and to build a more just world with all that we have learned.
In the words of my colleague, Kevin Lindsey, CEO of the Minnesota Humanities Center, "The work of creating a just society for all does not happen by accident. The work of a just society requires all of us to play our part in advancing the cause of justice."

Be well,
Brian Boyles
Executive Director
Mass Humanities awards $202,634 to organizations around Massachusetts.
The board of directors of Mass Humanities approved 18 projects at its March 2020 board meeting. Funded projects include documentaries, youth engagement, workshops, and lecture series on topics including Native perspectives, stories of domestic workers and immigrants, and social movements.
 "These projects were approved just as the COVID-19 pandemic forced many non-profits to shutdown," said Brian Boyles, Executive Director of Mass Humanities. "The grantees and their ideas are more proof that we'll need the humanities for an inclusive, successful recovery from this crisis."
The grants are part of more than $700,000 awarded in 2020 by Mass Humanities. Funding is made possible by the National Endowment for the Humanities, Mass Cultural Council, and private supporters. Click here to view a list of past grants.
See below for a full list of projects funded.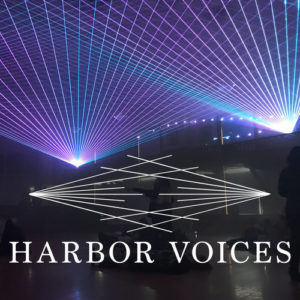 Northeast
$15,000 to Harbor Voices in Hamilton for "Our Voices, Our Place: Immigration Storytelling in the City of Lynn", an extensive audience engagement project to bring Lynn residents together to narrate their families' immigration stories and to use those stories to create an audio documentary and supporting laser show, with further events to inspire deeper reflection on the immigrant experience.
Metrowest Boston
$15,000 to Communities for Restorative Justice in Concord for "Voices of Reentry: Community Conversations about Healing the Harm of Mass Incarceration", a project that empowers recently incarcerated persons to tell their stories and engage the public in conversation about the challenges of life after prison.
$2,705 to Historic Newton for "Making Change: Abolition, Activism, and Social Justice from the 19th Century to Today", a film and discussion series on social movements and justice over the past two centuries.
Southeast
$10,000 to Forbes House Museum in Milton for "It's Just Business: The Roots and Consequences of the Opium Trade between China and the United States", to research and design an exhibit connecting the Forbes family's wealth derived from opium trading with contemporary debates about the opioid epidemic.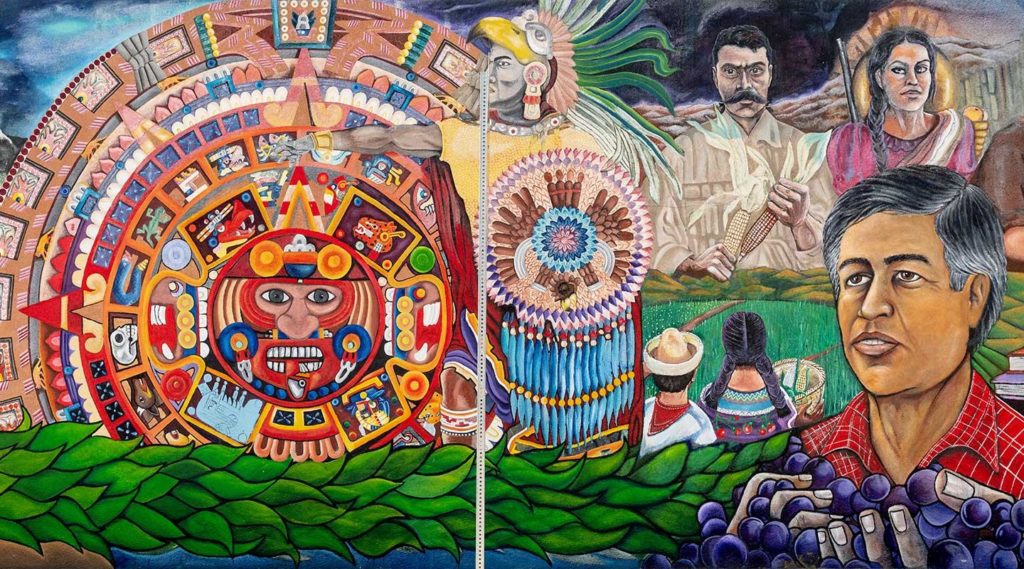 Boston
$15,000 to American Repertory Theater in Cambridge, for "Self-Evident: Finding Ourselves in the Declaration of Independence", community readings and a podcast series on the meaning of the Declaration of Independence to audiences today.
$5,300 to Gibson Society, Inc., in Boston, for "Women at Work: The World of 'Domestics' in Victorian Boston", a new guided house tour and supporting exhibit panels to tell the story of the domestic workers who lived at the house over its 100 years of occupancy.
$10,000 to USS Constitution Museum in Boston for "Enslaved People and Cultivation of Timber Used in Construction of the USS Constitution" to research, analyze and interpret the history of enslaved laborers who harvested live oak for the construction of the USS Constitution.
$9,855 to Lesley University in Cambridge, for "Centering Latinx Studies Pedagogy in Humanities Classrooms" through workshops with Lawrence high school teachers who want to bring Latinx history, art, culture and pedagogy into their humanities classrooms.
$15,000 to Boston Upstander Academy, Center for Independent Documentary, fora week-long educator workshop on teaching histories of genocide and survival, with an emphasis on Native perspectives.
$10,000 to Central Square Theater in Cambridge, for "Act Up and Vote! Festival – Central Conversation and Reflection Workshop." Funding supports outreach, panel discussions, and training of youth to lead reflection workshops that follow a youth-generated play about voting.
Cape & Cape Islands
$10,000 to the Wellfleet Historical Society & Museum for research on their collection of Native American artifacts to prepare for a permanent exhibition on Native American history and culture in Wellfleet before 1620, and to pilot a mini-exhibit and produce programming this summer on the same subject.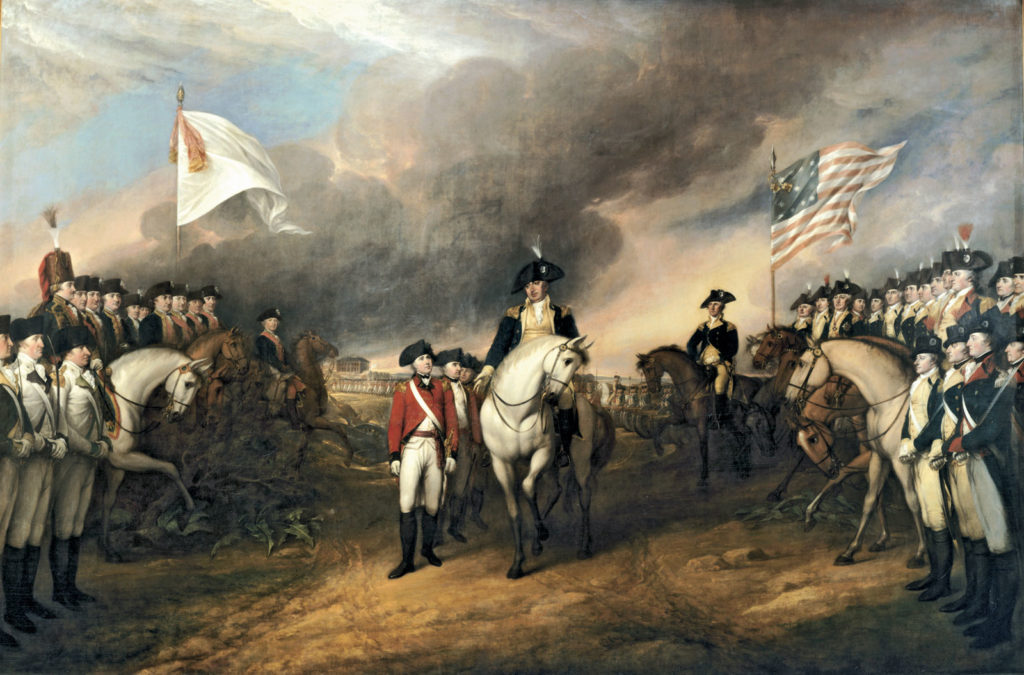 Western Massachusetts
$11,250 to Amherst Media for "A House Built by Hope: A Story of Compassion, Resilience and Religious Freedom", a project to distribute a short documentary and create a second short film aimed at high schools and focused on how people helped each other during and after the holocaust.
$9,988 to Smithsonian Affiliations/Smithsonian Institution for "Sparking Innovation through the Humanities" for Springfield 1st graders to create a take-home story and activity booklet on invention as a creative process and as local history, with teacher training to use in the classroom for all of Springfield's first graders when they take a field trip to the Springfield Museums.
$9,040 to the Pioneer Valley History Network in Belchertown for "Revolution Happened Here: Our Towns in the American Revolution" to collaborate with local historical societies on a website highlighting items in their collections that reveal diverse, on-the-ground stories of the American Revolution in the Connecticut River Valley.
$13,706 to the Karuna Center for Peacebuilding in Amherst for "Erasure and Restoration: An Exploration of Past and Present in the 'Kwinitekw' River Valley's Indigenous Communities", a community dialog and lecture series on the past, present, and future of Indigenous communities in the Valley.
$10,790 to Poetry Beyond Walls, Hampden County Sherriff's Department in Ludlow, to support weekly classes on poetry for male inmates preparing to reenter society. Participants will discuss poems and write their own, becoming well-versed in a literary form that will complement their work on how to deal with common uncertainties about reentrance.
$15,000 to University of Massachusetts, Amherst for "Question Everything: A Summer Philosophy Program", a free, two-week summer residential program 14 underserved high school students from Holyoke and Springfield, using philosophy to think through the theme of identity and diversity.
$15,000 to Insight Productions, Marlboro, VT- with a focus on the 5 Colleges for "Something to Talk About: Five Schools Speak Out about Free Speech", a pre-production film project to create an 8-10 minute trailer for a feature documentary about free speech on college campuses today.
On June 18 Mass Humanities hosts a screening of Exile and Community: The Life of Carola Domar. The screening begins at 7:30pm and will be followed by a discussion and Q&A with the filmmaker, Susan Rieder, and Domar's two adult daughters, Erica Banderob and Alice Domar.
Carola Domar escaped Nazi Germany in her teens and came to the States on her own. In this documentary film, she and her daughter tell the story of her persistent search for community, which she ultimately found in a New England town outside Boston. A high spirited, resourceful person, Domar yearned as a young Jew for the social acceptance and German identity she once took for granted. Domar's story is all the more remarkable for the spirit of forgiveness with which she ultimately came to terms with her past and reconnected with her former homeland. Her story of exile and community has particular relevance in the context of current mass migration and antisemitism. This film is conceived as an educational tool for young people.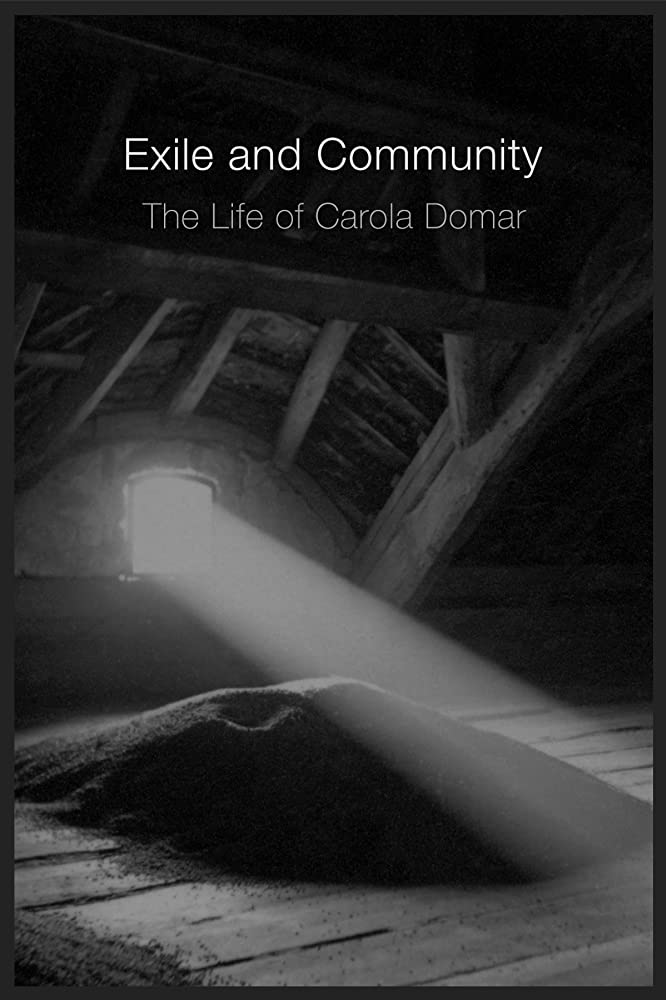 Susan Rieder came across Carola's account when researching Concord, MA residents who had experienced World War II and knew it would be a great story to tell in film. With the subject matter still so incredibly important and because Carola was a wonderful subject-forthright and compelling- she knew she had to tell this story.