So much of my memory is carried through cloth. When we are born, we are swaddled in cloth, and when we pass to another realm, we are finely dressed. "Cloth in itself is powerful. It has the innate ability to soothe a newborn child. It gives shelter and protects wounds. It celebrates religious milestones, rites of passage and marriage. It honors academic achievements and judicial seats. It commands uniformity at schools, hospitals and prisons. It separates males and females, the wealthy and the poor. Cloth has given me a voice to recall the memory of my enslaved ancestors.
So much of my memory is carried through cloth. My ancestor Broteer was the eldest son of Saungm Furro, prince of the Dukandarra tribe in Guinea, West Africa. Captured at age six by slave traders, Broteer was sold for four barrels of rum and a piece of calico. He was stripped of his birth name and forever thereafter was known as Venture.
Twenty-three years ago, I was having a midlife crisis. Concerned, a friend since freshman year in college suggested that we take a quilt course. On the first day of class, the teacher showed a quilt that she made. It called to me, drawing me in as it soothed my spirits.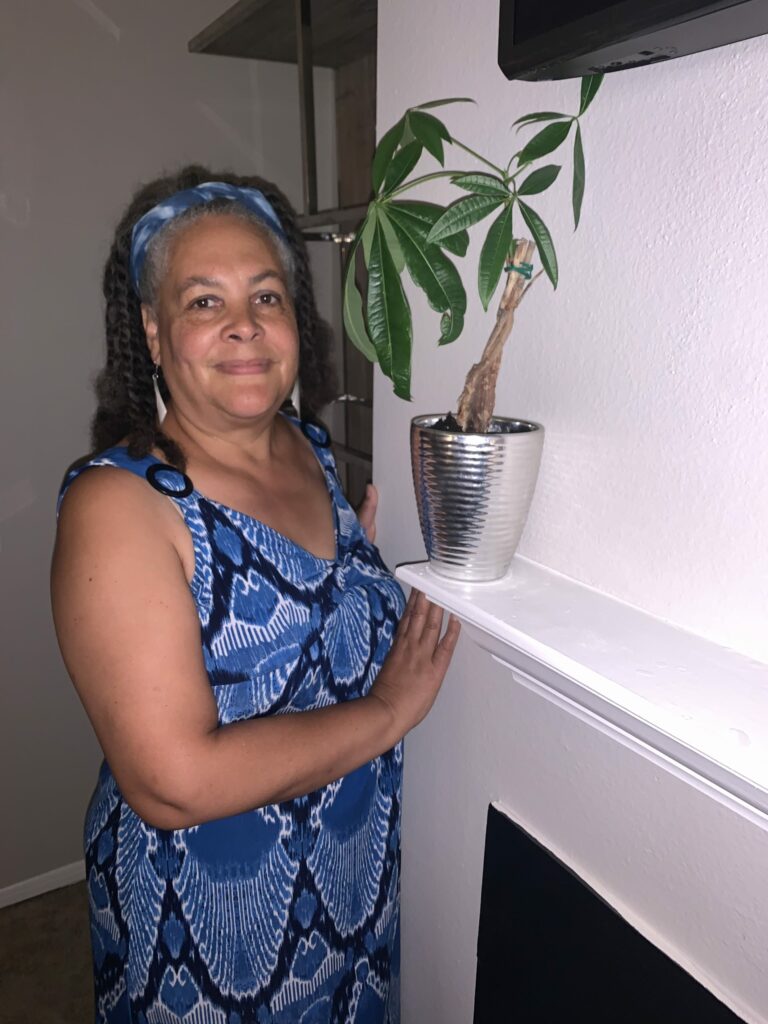 The images of three barefooted, brown-skinned women stood out against a background the color of natural linen. Their heads were wrapped in head scarves in vibrant colors of red, blue and orange that matched their skirts. As the women's feet stomped, their skirts swayed. Some hands were placed on hips and some were raised high in praise. The stitches swirled around each woman and the symbolic circle of the sun, making it appear that the women were moving to a rhythm of their own, dancing the celebration of life. The quilt metaphysically recalled the memory of my ancestors. That was the moment when I decided to create my own story quilts. Cloth has given me a voice.
The quilts that I create visually depict and document in cloth the life journeys of my family, my ancestors, and the many others who lived through the African diaspora. The stories my quilts tell allow me to ease into uncomfortable conversations about such critical issues as racism, social and medical justice, prison reform, African American history and literature, farm, food and housing sustainability, climate change, women's rights, religion, politics, and human trafficking, that sadly still exists today.
In 1997, I joined with my quilt teacher and my friend since college to cofound a guild dedicated to preserving the art, history, culture and traditions of African American quilts. It is the only one of its kind in the New England states. Our organization has brought many opportunities for me to display my work, teach quilt classes, and give presentations at various museums, art galleries, churches, universities, Masonic halls, cemeteries, folk festivals, farms, libraries, and public and private high schools. I talk about the stories in the cloth, on the cloth and behind the cloth. I do so passionately, honoring my ancestors and family, who taught me the value of freedom.
At the age of sixty-six, my ancestor Venture recalled the story of his life. He had walked through the "Door of No Return," survived the transatlantic Middle Passage, and suffered enslavement close to forty years, before he was able to purchase his freedom by his own labor. His continued hard work later allowed him to purchase his pregnant wife, Meg, his three children, Solomon, Cuff and Hannah, and, by their request, three other enslaved Africans in colonial Connecticut. He never drank spirits and despised all fine cloth. This I know because he shared his story of enslavement and life as a free man in The Narrative of the Life and Adventures of Venture (1798, printed on linen). It was the first slave narrative published in America. Venture left us all with words to live by: "My freedom is a privilege that nothing else can equal."
Following in the footsteps of my ancestor, I too continuously seek liberty, justice and equality for all through hard work and storytelling. So much of my memory is carried through cloth, and cloth has given me a voice.
---
Susi Ryan was born in Hartford, Connecticut. She is the descendant of enslaved Africans in her paternal family. In her maternal family from Germany, she is the first generation American born citizen. She is a fiber artist, cofounder and current president of Sisters In Stitches Joined By The Cloth, a quilt guild. Susi studied at UMass Dartmouth and Clark University, and is a forever student at the Clemente Course for the Humanities. She creates story quilts that visually depict the history of her ancestors, family, and other individuals in the African diaspora. Her story quilts have been exhibited throughout the United States at various museums, art galleries, churches, folk festivals, high schools, colleges and universities, and at Venture Smith Day. She resides in Worcester with her greatest supporter of forty years, her husband, Robert T Ryan, Jr. Susi has one daughter, Gina E. Ryan, and one grandson, Jasir Robert Ryan-Lee.
---
We, Too, Are America is made possible through "Democracy and the Informed Citizen," an initiative administered by the Federation of State Humanities Council through a grant from the Mellon Foundation.