When I was a little girl, Franklin Delano Roosevelt saved me from the creep on the second floor.
After my father arrived home from the Philippines after WWII, we lived on the top floor of a three-decker on Dix St. in Worcester. We had a fenced-in yard and I was only allowed to play on the walkway to the street. I wasn't even allowed to touch the grass. Mrs. Pollack, the property owner, would watch from her window on the first floor to be sure I didn't disobey. When I was done playing, I would take a deep breath and tiptoe upstairs, trying to avoid the man on the second floor who always seemed to be lying in wait. He'd open the door, throwing his arms out to scare me, and angrily demand, "Don't you squeal on me!" I finally told my father, and at around age five we moved to our own house. We had a bus stop across the street to go to school, work and the movies, and I felt comfortable and safe in my new home. My parents had always loved FDR, but now they were grateful that his GI Bill had made our move possible.
However, my parents never realized how many ways Roosevelt's social safety net would come to the rescue of our family through the years. When I was seventeen and my youngest sister was three, our father died suddenly of a stroke, leaving six young daughters. The life insurance he thought he had didn't come through. A week after the funeral, my mother went for her real estate license. Distraught and still in shock, she couldn't even remember her name and walked out. Social Security came through for my family, delivering the support my father could no longer provide; it kept a roof over our heads, food on the table and the ability to make some kind of a life plan with dignity.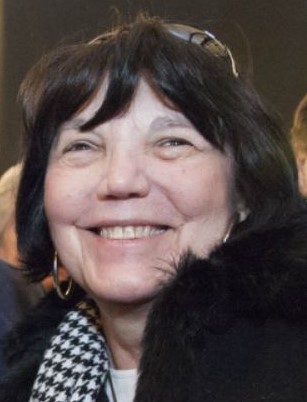 In later years, I once again learned first-hand the importance of our safety net in times of crisis. In my mid-forties, I moved to Denver and worked in film and TV. One day while attending a play with a friend, I leaned over to my companion and asked, "Do you see that big hole on the stage?" There was no hole, except in my field of vision. The next day an ophthalmologist diagnosed me with Pseudoxanthoma Elasticum, better known as PXE, a rare disorder which affects the cardiovascular system, eyes and skin.
Not long after being released from the hospital, I was at a stop sign when a drunk driver, trying to commit suicide, hit me from behind. I hit the windshield and was thrown from the car. During a lengthy recuperation from head and leg injuries, I was placed on Social Security disability. Then I lost my driver's license due to my diminished eyesight. Because of my Social Security benefits, though, I was able to live in a comfortable home and receive the help I needed when venturing outside my home for errands and appointments. Without these benefits, I would have struggled to even get by day to day. With them, I have managed to publish a full-color book about Worcester history, found a national organization advocating for the needs of PXE patients, and work at a meal site for seniors and the homeless as a Volunteer for America.
Through the years, a succession of presidents have followed FDR's lead, expanding on the New Deal in a variety of ways. Presidents Lyndon Johnson, Richard Nixon, Ronald Reagan, and Barack Obama all oversaw expansions to the social safety net that helped improve Americans' health, security and longevity.
Today, a record number of people are in need, but instead of offering further help, the current administration appears to be headed backwards. At a time when over 140,000 Americans have already died of COVID-19 and over 4 million have been infected, this administration wants the Affordable Care Act struck down. At least 26 million people would be affected; no ACA alternative has been offered. Similarly, while tens of millions of Americans remain out of work, Congress goes on vacation, appearing to expect a means-tested $1,200 to last indefinitely, as lockdowns reach four months and counting.
As with the Great Depression, we don't know how long this pandemic will last, and people will continue to suffer. We need an updated New Deal that reaches all Americans. Proposals that may have seemed fanciful mere months ago are now needed to meet the moment. Universal Basic Income and Medicare for All would be a good place to start, providing an income and healthcare floor for every American.
For the elderly, these programs already exist—they're called Social Security and Medicare. It's about time the healthcare and financial security that seniors have come to depend on was expanded to include all Americans. They asked FDR how we would pay for his New Deal, and the answer remains: the money is there, it's a matter of our priorities.
Without the social safety net constructed by FDR and his successors, my mother would not have been able to provide a home or food for me and my sisters. Without it, I would not have been able to live independently after being hit by the drunk driver, and I wouldn't be able to afford the help I need today as I deal with the challenges of living without sight.
Sweeping changes tend to happen only in times of turmoil when there is no other choice but to evolve. Let's use this crisis as an opportunity to adopt a sweeping twtenty-first century New Deal that prioritizes financial and healthcare security for American families of all ages. For a new generation of little girls and their families, there's no time to spare.
---
C.J. Posk lives in Worcester, Massachusetts. She has a daughter, a son, and five grandchildren. C.J. has a great interest in preserving and sharing history, especially with children. She is the author of Worcester Stacks Up: Firsts and Fun Facts, a full color book brimming with Worcester history.
---
We, Too, Are America is made possible through "Democracy and the Informed Citizen," an initiative administered by the Federation of State Humanities Council through a grant from the Mellon Foundation.