I took my seven-year-old son and eleven-year-old daughter to a protest in downtown Los Angeles four days after George Floyd was murdered. We were in the nearby arts district taking photos in front of the Kobe Bryant mural. My kids didn't know much about Bryant except that he had died in a helicopter crash, but he was a staple in my 90s childhood. I couldn't pass up the opportunity to check out one of the many memorials raised in his name. I was giving the kids a brief rundown of the Lakers-Celtics rivalry when police car after police car began whizzing by. There were maybe twelve of them. I told the kids they were probably going toward a protest. My daughter said, "Let's go!"
By this time, nearly all major cities across the United States were holding protests and had been doing so. People were angry and charged by the news of yet another unarmed Black man succumbing to police brutality. Since we were in a place we had never been, I used the snap Map function on Snapchat to determine where the crowds were. The more people that publicly post in a location, the brighter the glow on the map. We were able to find the location and got back into the car.
I told the kids the rules: "Stay close to me, keep your distance from others, keep your mask on, and if anything scares you, you let me know." I knew I had to provide more details about what exactly was going on and why. We got out of the car, and as I started to give a simplified version of police brutality to the kids, my daughter said, "I saw the video." My heart sank. I hadn't, and still cannot bring myself to do so. There is too much trauma in watching someone die as George Floyd did. I hugged her and told her this is why we are joining the protest. My son didn't really say much—he just listened and followed behind his sister and me as we made our way toward the crowd.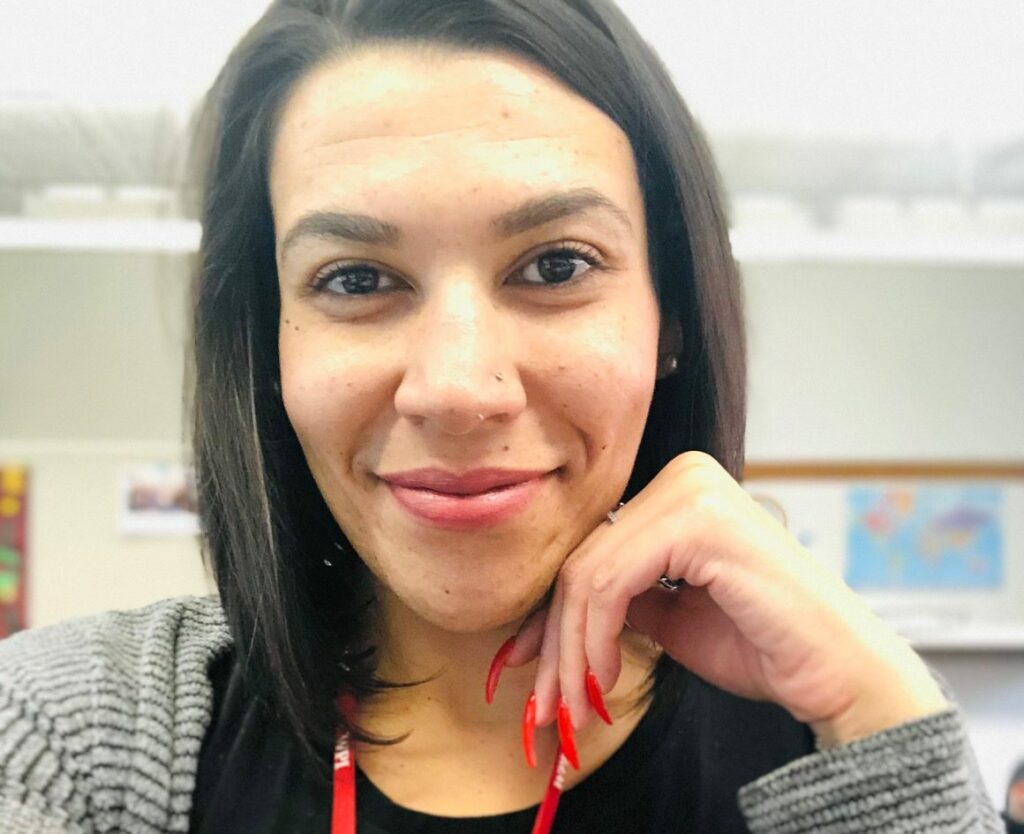 Chants of "George Floyd!" could be heard from the car. The kids and I began calling out in unison behind our masks, fists raised. It was a powerfully moving moment for me. There was a circle formed in the intersection with hundreds of people of all races rallying around with posters and t-shirts commemorating George and displaying, "No justice, no peace."
Growing up in the nineties, I'm not sure if I would call our peers less informed, or simply protected. I don't recall a specific time when my parents spoke to me about race, from either my mother's white or my father's Black perspective. Looking back, I feel that my relatives did all the work during the early stages of desegregation and integration, allowing kids in some communities to not feel the burn, if you will, of racism.
It wasn't until writing this that I realized I did experience racism as a child, but at the time I was unaware of it, being less informed. It wasn't blatant or violent. I didn't think much about words such as "Oreo" and "mulatto," because a lot of people used them, and they became interchangeable for my ethnicities. I realize now that maternal grandfather was absent because my siblings and I, along with many of my cousins, were half Black. It's a painful reality that, at a young age, I had no real concept of what I was dealing with.
We didn't have social media and so I didn't see whatever may have been in the news or media. The news wasn't my thing and I was pretty sheltered. Social media apps show raw content and teach our kids some of the true reality of what is going on in the adult world around them. They are extremely powerful and persuasive. My daughter saw the video and countless others on the popular TikTok app. She became fully aware of police brutality, blatant racism, divisions between Black and White—the people versus the state, riots, looting, violence, harmony, but more importantly, peace.
As the sun began setting and the crowds grew, the scene was turning chaotic. Armored emergency vehicles were at all corners of the intersection, up to and including the entrance to the freeway. There were about fifty officers, all lined up, hands on their military style weapons, in full tactical gear. All we heard were blaring sirens and scattered chanting. People were running in all directions. I wasn't fearful, but knew it was time to go. At 7 p.m., about an hour after we arrived, the city officials put an 8 p.m. curfew in place and the kids and I began making our way back to our hotel room, twenty minutes away. It was a great opportunity to talk to them about history and the future.
I relied on social media to locate a protest to teach my kids the meaning behind all the videos and content. We are going through an America that is changing. Children and young adults now can use their voices as well as we do and be part of a great change. Social media can be a great platform, and a great tool for learning and research. However, positive content isn't all that's out there. Harmful, divisive information also exists for the world to see at the click of a button.
I can only protect my children for so long before they go out into the world on their own, having formed their own opinions, morals and critical thinking skills. What I can do is prepare them for what they may see, hear or encounter. When I was growing up I didn't hear about a major event or movement taking place until I was much older and did my own research. All my daughter has to do is open an app and the world is at her fingertips. Having attended a peaceful protest, my kids are going to be part of the change we all hope to see in years to come. They'll understand the truth of our history, history we've experienced and learned about together. My children will know they are part of a people with a great and valuable history and not what the world may or may not see them as.
---
We, Too, Are America is made possible through "Democracy and the Informed Citizen," an initiative administered by the Federation of State Humanities Council through a grant from the Mellon Foundation.