Brockton Library's 1st Thursday Suffrage Conversation Series. Suffrage 1920-2020.
August 6 @ 6:30 PM

-

8:00 PM

EDT

Funded by Mass Humanities

Cost: Free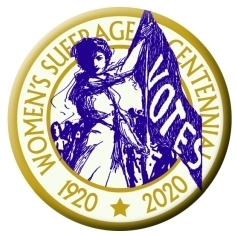 Suffrage 1920-2020, celebrates the 100th Anniversary of the Women's Suffrage Movement and the role of Brockton area residents and organizations in the Suffrage Movement. It highlights the role of women and men who supported and opposed suffrage for women and the strategies employed to overcome the belief that women did not want to vote and lacked the expertise or mental capacity to offer a useful opinion about political issues. This month's program will launch the first-ever viewing of an 18-minute movie recently produced of "A Reenactment of the Suffrage Meeting at the Ames Mansion in Easton, MA."  On January 13, 1915, a snowy winter's day, suffragist, activist and artist Blanche Ames gathered many local women together in her library at what is now Borderland State Park to plot, plan and strategize to ensure that the 19th Amendment ballot question would pass.
In light of COVID–19 and the protests for equity, the discussion following the presentation will focus on how the strategies, planning, and persistent efforts of suffragists to gain the right to vote can be replicated today to address equity and obstacles to voting, while ensuring science-based decision-making is key in developing public policy about public health. Attendees will share what individuals and communities can do to address these issues.  Join the Zoom Meeting at: https://us02web.zoom.us/j/89805520227