Dialogue on Democracy
December 6 @ 4:00 PM

-

5:30 PM

EST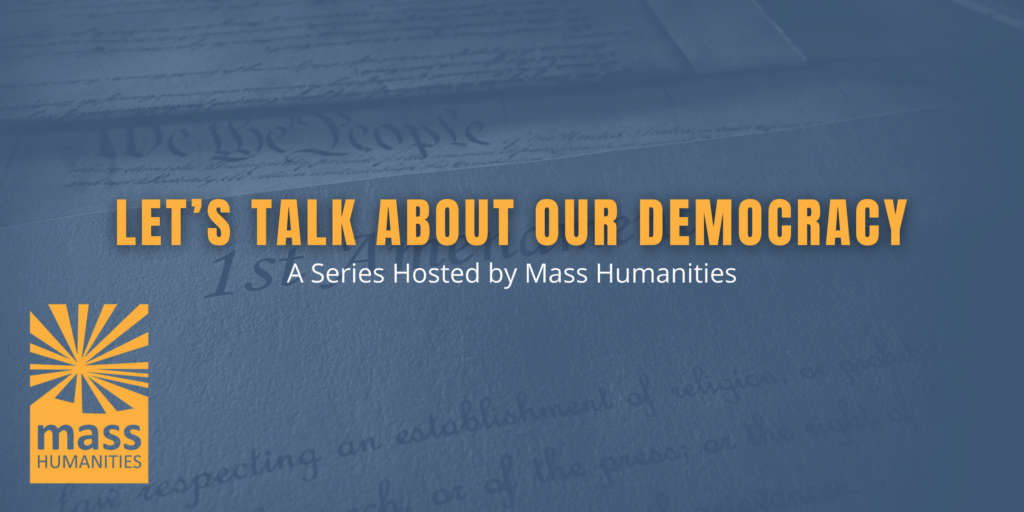 Dialogue on Democracy
Dec. 6, 4:00-5:30 pm
Americans from across the political spectrum are worried about the health of our democracy, which is to say that they care about our democracy. Please join us on Sunday, Dec. 6 for the second event in our "Let's talk about our democracy" series.  This event is an online Dialogue on Democracy, hosted by Mass Humanities, where you will talk with other members of the audience about what matters to you about democracy in the U.S, and where you will listen to the perspectives of other participants. Everyone attending this event will be broken up into small groups in breakout rooms, each with a facilitator, to engage in structured dialogue with each other.
The goal is to help participants better understand their own views and values and to listen to and learn about the views and values of other Massachusetts residents. As Louise Diamond of the Institute for Multi-Track Diplomacy has written, "in dialogue, the intention is not to advocate but to inquire; not to argue but to explore; not to convince but to discover." We invite you to bring curiosity and an open mind to explore more deeply, and listen more attentively, to what really matters to you and others about American democracy.
To register: The number of participants who can register is limited and registration will close when the limit has been reached. Please sign up only if you can commit to attending. To register, please click here.  We hope to see you on Dec. 6!
Questions? Please email Jennifer Hall-Witt, Program Officer at Mass Humanities, with any questions: jhall-witt@masshumanities.org