Every Voice Counts: Activating Youth Voices
November 17, 2020 @ 6:30 PM

-

7:30 PM

EST

Funded by Mass Humanities

Cost: Free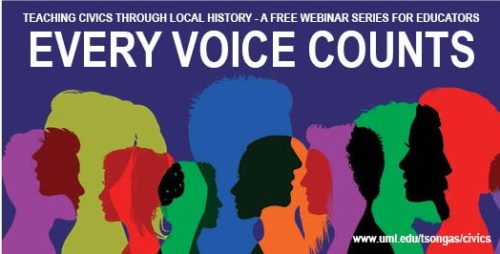 What can we learn about how people have secured equitable political representation in the United States by examining case studies from Lowell's past and present?
Find out by participating in the Tsongas Industrial History Center's webinar series for educators that explores how underrepresented communities have fought for equitable representation and overcome barriers to civic participation. In each webinar, historians and educators share content on a civics topic and discuss how to adapt it for the classroom. Each session includes companion primary documents and writing prompts.
In 1971, the 26th Amendment lowered the voting age in local, state, and federal elections from 21 to 18. Recently, movements across the country, including in Massachusetts, have advocated for additional lowering of the voting age using the arguments that 16- and 17-year-olds hold jobs, pay taxes, and have drivers' licenses. Mr. Geoff Foster (UTEC) will share his work with UTEC students and their "VOTE 17" initiative to enfranchise Lowell's 17-year-olds in school and city council elections. Mr. Mike Neagle (teacher & 2019 Massachusetts Social Studies Teacher of the Year) will discuss how he engages his 8th-graders in civics activities outside the classroom through Generation Citizen and Discovering Justice.