Every Voice Counts: Lowell's Immigrant Communities and the Push for Equitable Voting Representation
November 10, 2020 @ 6:30 PM

-

7:30 PM

EST

Funded by Mass Humanities

Cost: Free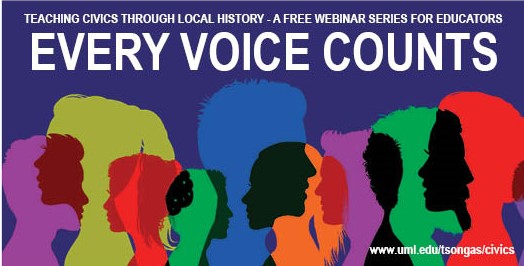 What can we learn about how people have secured equitable political representation in the United States by examining case studies from Lowell's past and present?
Find out by participating in the Tsongas Industrial History Center's webinar series for educators that explores how underrepresented communities have fought for equitable representation and overcome barriers to civic participation. In each webinar, historians and educators share content on a civics topic and discuss how to adapt it for the classroom. Each session includes companion primary documents and writing prompts.
Prof. Sue Kim (UMass Lowell) and Mr. Oren Sellstrom (Lawyers for Civil Rights) will talk about the major voting rights case, Huot v. City of Lowell, brought on behalf of Asian-American and Latinx voters to dismantle the at-large electoral system in Lowell. Prof. Kim was a plaintiff in the lawsuit and Mr. Sellstrom was the attorney who won the groundbreaking victory in the case.