Every Voice Counts: The Success (and Failure) of the 15th Amendment and African American Voting Rights
October 20 @ 6:30 PM
EDT
Funded by Mass Humanities
Cost: Free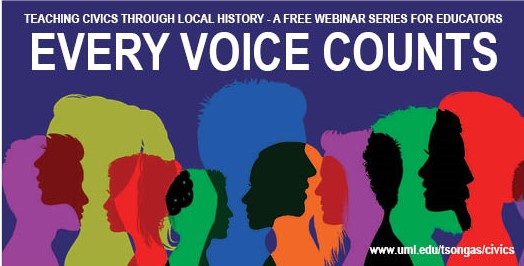 What can we learn about how people have secured equitable political representation in the United States by examining case studies from Lowell's past and present?
Find out by participating in the Tsongas Industrial History Center's webinar series for educators that explores how underrepresented communities have fought for equitable representation and overcome barriers to civic participation. In each webinar, historians and educators share content on a civics topic and discuss how to adapt it for the classroom. Each session includes companion primary documents and writing prompts.
The 15th Amendment to the U.S. Constitution says that (male) citizens "shall not be denied the right to vote based on race, color, or previous condition of servitude." However, throughout the late 19th and 20th centuries, discriminatory practices (poll taxes, literacy tests, etc.) were used to prevent African Americans from voting, particularly in the South. The Voting Rights Act of 1965 made strides in removing barriers to polls, although enforcement varied. So, where does the United States stand today in the wake of these laws and acts? Asst. Prof. Elizabeth Herbin-Triant (UMass Lowell) will discuss the state of African Americans' access to voting past and present.